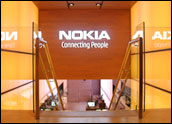 Nokia on Friday announced that it will purchase San Francisco-based mobile analytics firm Motally.
The Finnish mobile phone giant did not disclose what it's paying for Motally, but it said the transaction is scheduled to close in the third quarter.
The purchase is aimed at helping Nokia, which is losing ground in the mobile device market, claw its way back up.
"Nokia was one of the first companies out there with an app store but it was difficult for them to go to carriers and ask them to make its Ovi store part of their offering because they were first out of the gate," Kevin Burden, a vice president at ABI Research, told the E-Commerce Times.
"Motally will help Nokia understand what apps are being downloaded, which ones they should promote, how people use the apps, and let Nokia get back to operators and show reliable metrics on these issues," Burden said.
Nokia's Take on Motally
Motally's mobile analytics service offers in-application tracking and reporting and lets developers and publishers better understand how users engage mobile apps, Nokia said when announcing the purchase.
Nokia will adapt Motally's service for its Qt, Symbian, and Meego platforms, and for Java.
Qt lets developers write apps and user interfaces once then deploy them repeatedly across desktop and embedded operating systems. It provides a set of customizable widgets, graphics canvas, style engine, and other building blocks needed to build modern UIs. Qt is integrated with the WebKit Web rendering engine, so developers can blend Web and native code in one application.
Meego is a mobile platform for tablets and other mobile devices which was launched jointly by Nokia and chip giant Intel in February.
"The acquisition underpins Nokia's drive to deliver in-application and mobile Web-browsing analytics to Ovi's growing global ecosystem of developers and publishers, enabling partners to better connect with their customers and optimize and monetize their offering," Nokia spokesperson Marco Argenti said when announcing the deal.
About Motally
Motally, based in San Francisco, has a patent-pending technology for tracking and reporting usage statistics on mobile websites and applications. It offers analytics for iPad, iPhone BlackBerry and Android apps.
Clients include Intuit, Fandango, Yelp Mobile and news organizations such as The Dallas News, The Seattle Post-Intelligencer and The Denver Post.
Nokia will continue to serve Motally's existing customers.
Motally staffers include CEO John Forese, formerly at Nielsen Mobile; Founder and President Arte Merritt; and Chief Technology Officer Duc Haba, formerly at Oracle.
The firm's board of directors consists of John Malloy and Jonathan Ebinger, both partners at venture capitalist firm Blue Run Ventures, which invested in Motally; and Doug Garland, formerly at Google.
Why Motally?
"Mobile analytics is the next big wave, and it's difficult for OEMs to get their hands on usage data — how often apps are launched, the times of day they are downloaded or launched, stuff like that," ABI Research's Burden said.
"Mobile analytics is essential for any company that's serious about mobility," Maribel Lopez, principal analyst and founder of Lopez Research, told the E-Commerce Times.
There may be a tie-in to Intel's push into the mobile space, which the chip giant announced on Thursday when it disclosed that it's purchasing security firm McAfee. Intel spokesperson Bill Kircos described this purchase as "a great opportunity for our various wireless efforts."
Motally "is a way to make sure Nokia has full understanding of how Meego is being used when it's launched," ABI Research's Burden pointed out. "The fact that Nokia has Meego coming makes it important for it to buy Motally because Meego is a platform that plays not only in the smartphone space but also in other areas as well. Nokia had better get a handle on how its apps are going to be used," he added.
"Nokia's analytic purchase is definitely a solid strategy to increase company revenues and position in the market," Heather Way, a research analyst at Parks Associates, told the E-Commerce Times.
"In terms of offering analytics services, Apple and Google are ahead of the game," she said. "They are already using in-house consumer data to support recently acquired mobile ad networks and advertising sales."
If Nokia needed to get mobile analytics, why didn't it pick some other, larger company? Why a small firm like Motally?
"Since Motally's small, it's an easy pickup for Nokia," Burden said.
There may be other reasons for Nokia's decision as well.
"Some of the partners in Blue Run are former Nokia employees, and Blue Run has an office in Helsinki," Will Stofega, a program manager at IDC, told the E-Commerce Times.
Numbers Aren't Everything
In the second quarter of 2010, Nokia lost 2.6 percentage points year over year in the worldwide mobile device market, according to Gartner.
Still, it is the leader in the market, with 111.5 million units sold, giving it a share of 34.2 percent. Nokia sold almost twice as many units as runner-up Samsung, which recorded 65.3 million units pushed out.
Nokia's Symbian operating system is also the leader in the worldwide smartphone market, with 25.3 million devices running the OS sold worldwide in the second quarter. That's more than double the 11.2 million second-placer RIM chalked up.
However, Nokia needs to get out a killer smartphone if it wants to maintain its market share, let alone get ahead.
"The real problem is not the metrics in tracking and analytics, I think," IDC's Stofega opined. "They should have had that capability before. What Nokia needs is to get out a 'hero' device that will help it drive Ovi."