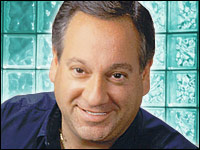 About 15 years ago, I had an office next door to Barry Green. At the time, our businesses had nothing in common. I was a wireless analyst and he was in healthcare. I recently got a call out of the blue from Barry asking for my help in evaluating an opportunity. When I took a look at what he was doing, I realized the world has changed dramatically. Suddenly, our previously unrelated businesses of wireless and healthcare were crashing together.
This is true not only for healthcare, but also for many other industries as well. They are all angling to transform themselves in the new wireless world we find ourselves in today. There is enormous opportunity and risk, but companies cannot avoid this new world and survive. Let me explain.
In Barry's case, the plan is to create a service that uses the wireless networks to help doctors and patients and pharmaceutical companies keep in touch and to improve the relationship. To help patients better understand the importance of their prescriptions. To help them give real-time information and feedback to their doctors so they can be monitored more closely.
Better Quality of Life
Nearly 50 percent of people who are following prescription medication regimens don't stick to their physicians' recommendations. This leads to more than 47 billion related hospital visits and US$177 billion in direct and indirect costs to the U.S. economy each year.
One of the main causes of this problem is lack of communication. When deciding on a specific medication for a patient, a doctor needs to become a medication coach, communicating the information that individual needs in order to understand how the medication works and why it's the best choice. But who has that kind of time?
If the pharmaceutical company that distributes the medication has educational initiatives and materials available to help the doctor provide the necessary information, it makes the job that much easier. And that guidance allows the patient to feel empowered and in control.
Research shows patients who feel fully engaged in their medication treatment will comply with their physicians' recommendations and will take the medications that are helping them enjoy a better quality of life.
In the 20 years since the issue of non-compliance has come to light, no one has been able to find a practical solution that will allow pharmaceutical companies and physicians to deliver the information patients need directly into their hands on a regular basis to encourage their compliance.
Times have changed.
Change or Become Irrelevant
Today, those in the wireless and healthcare worlds can work together. Virtually everyone has a wireless device. If pharmaceutical companies and physicians can harness the power of these devices, they can communicate with patients from the moment a prescription is written, using proven tools like educational starter kits delivered via email, live prescription reminder outreach calls, and interactive voice response messages that provide prescription information and lifestyle tips.
Now is the time to jump into this billion-dollar, virtually untapped, opportunity.
Pharmaceutical companies are seeking partners who can help them develop and implement compliance programs that will not only allow them to enhance the care that physicians are providing to patients, but also build brand loyalty.
Suddenly, this blending of the wireless and healthcare industries makes enormous sense.
This is not only a cutting-edge solution to an age-old problem, but also an opportunity for growth — for the wireless carriers, the doctors and pharmaceutical companies, and for Barry's business.
All this good news means new threats to the status quo. Suddenly, companies that compete are faced with updating the way they do things, or they will become irrelevant as patients increasingly choose partners who use this cutting-edge solution.
Engines for Growth
This is an amazing new opportunity that is emerging today. Wireless can and will redefine industry after industry, as each figures out how to leverage this new opportunity and risk.
Wireless carriers have people whose job it is to help wireless blend with other industries and take advantage of the enormous opportunities.
I have talked with Glenn Lurie, president of emerging devices and resale at AT&T Mobility and Consumer Markets, who says a whole new world of opportunities is emerging, giving every industry a wireless approach to improve and transform its business.
Marquett Smith, VP of corporate communications at Verizon Wireless, and Tony Lewis, its VP of open development, are involved with this healthcare initiative. They see this as one of the biggest industry-reshaping opportunities of the next several years.
Dan Dooley, president of wholesale solutions at Sprint, agrees that new opportunities like this will be the real growth engines going forward.
The positions these people hold didn't exist a few short years ago — that is how quickly this is occurring.
One of the biggest challenges for people like Barry Green is to get together with people like Glenn Lurie, Marquett Smith, Tony Lewis and Dan Dooley to make this magic happen.
In addition, there is a similar opportunity for manufacturers and developers of mobile technologies — smartphones, other handheld devices, and the platforms they run on — like Apple, Google, RIM, HP, Nokia, Samsung, LG, Motorola, Sony Ericcson, HTC and others. They will all be players in this new game.
This is an overwhelming opportunity — and it is getting hot today. It cannot be ignored. Confusion is not a reason to sit it out. It's these leaders who will change industry after industry.
Mobile Apps and the Smartphone Revolution
Growth in wireless is changing. It used to come from signing up new users. Today, most everyone in the U.S. marketplace who wants a cellphone, has a cellphone.
Competition is moving into other areas. These companies compete against each other as they try to win business from the carriers. That is why we see the smartphone revolution exploding. App store inventories have risen from a few hundred apps just three short years ago to a few hundred thousand today — and they're still growing rapidly.
Apps will continue to evolve. Many today are pointless fun, but in the future, there will be many more important apps with features that help give us remote control over our health, our finances and our lives.
Growth in wireless will also come from this area of transforming other industries by helping them reach new customers and prospects in new and innovative ways.
Over the next few years, the number of smartphone users will grow to more than a billion. The mobile app market will grow from almost $2 billion in 2009 to almost $16 billion. To put things in perspective, we are only at the very early stages of this opportunity.
How will all these technology changes impact this new segment of medical communications? How will it, in turn, change healthcare? According to Barry Green, "the medical experience will look very different over the next few years" — perhaps making our previous healthcare look as old-fashioned as those doctors in Norman Rockwell paintings. They look quaint, but who would really like to go back to those times?
I am in the wireless and telecom business, not healthcare. However, it is very interesting how these two previously unrelated fields are now overlapping. This is just the beginning. No one wants to be left behind when the wave of change passes. That means now is the time to jump in and splash around, before the real heat of competition begins.
---
Jeff Kagan
is an E-Commerce Times columnist and a wireless, telecom and technology analyst, author and consultant. Email him at
[email protected]
.