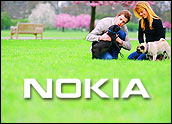 Nokia, the world's largest mobile phone maker, on Tuesday cut its short-term profit forecast and said it expected slower growth overall heading into 2007.
During its annual Capital Market Days event for industry and stock market analysts in Amsterdam, Finland-based Nokia rolled out a series of forecasts for its own growth and for the overall mobile phone industry, detailing strategic moves the company said will enable it to become more of a player in the enterprise space and protect its overall market share lead.
Nokia said sales growth would be about 10 percent for 2007, still a strong level but likely half of what it and the rest of the mobile phone industry will experience in 2006.
The firm also forecast lower profits from operations, with operating profit margin pegged at 15 percent for the next one to two years, versus 17 percent for this year. Much of that drop will be as a result of its exposure to the slimmer-margin infrastructure business, which will grow after Nokia merges its networks business with Siemens. That deal is expected to happen in early 2007.
For the industry as a whole, Nokia forecast mobile sales would grow 10 percent from 2006 levels of 970 million units, with stronger growth of more than 15 percent in key markets such as Asia Pacific, China, and the Middle East and Africa.
Mobility for the Market
Longer term, Nokia sounded a mostly upbeat note, saying it would work to boost its already top market share of 35 percent with new, slimmer devices meant to answer competitive challenges from Motorola and Samsung.
As many as 1 billion mobile handsets could be sold this year, but even conservative estimates say that level will be surpassed in 2007.
Nokia said another milestone would be reached as well, with the 3 billion mobile subscriptions mark reached next year, a year ahead of earlier forecasts.
President and CEO Olli-Pekka Kallasvuo said a key part of the company's strategy will be to connect "the mass market" to the Internet with mobile devices.
"With an estimated 850 million Nokia device users out there, we are positioned to connect more people to the Internet than any other company in the world," he said. "We are actively aligning our strategy in pursuit of this major business opportunity."
Nokia has made "organizational changes" and put "marketing and design efforts into a sharper focus," according to Kallasvuo.
"We believe Nokia has the power to build a further improved portfolio of devices that raises industry standards to a whole new level," he added. We are actively aligning our strategy in pursuit of this major business opportunity."
That strategy includes maintaining a leadership position in the market for converged devices, and stealing market share away from single-use devices such as digital cameras and MP3 players by making and selling more multi-function mobile machines.
Function or Fashion
Nokia has found itself torn between two markets — it has begun to produce a strong line of enterprise-class smartphones but, at the same time, has lost consumer market share to rivals who make sleeker, thinner phones, Gartner Research VP Ben Wood said.
"The market is fickle in what it wants from its mobile phones," Wood told the E-Commerce Times. "While the trend is clearly toward more smartphones being sold, sleek and fashionable design is still a strong draw for consumers."
In fact, the thin Razr is seen as a major reason why Motorola had a particularly strong second quarter in terms of sales, growing its market share by 4.2 percent compared to the same period a year ago, while also having a strong showing in key emerging markets such as China.