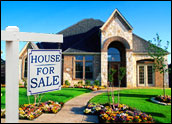 Some people are considering now buying a home because they realize that residential prices are quite low. They reason that if they don't get into the market now, they might miss the window of opportunity to purchase a home at a deep discount from previous prices. Others are looking to get into the market to buy a distressed sale, then profitably "flipping" the house quickly by selling it to another buyer. Both scenarios make sense.
But can a prospective buyer do even better by waiting a little bit more in the hopes that prices will decline even further? There's no absolute answer to that question, but let's take a look at the factors affecting real estate prices.
Interest Rates
There is no doubt that long-term interest rates are quite attractive. And, if the monthly payment (so long as it is fixed) is affordable, now might be an excellent time to purchase a home. Traditionally, attractive interest rates usually act as a catalyst for homebuyers — the lower the rates, the higher the number of eligible buyers who qualify for a mortgage from a bank.
This phenomenon — lower rates followed by more home buyers entering the market — historically would cause a firming-up of prices, followed by a gradual increase in prices, as demand pushes up against the available supply of houses. Strangely, there isn't a rush to purchase homes, thus prices are still soft.
The fact still remains, however, that if you were seriously considering purchasing a house either as your residence or for investment purposes, now would be a good time so long as you are reasonably confident that you can afford the monthly mortgage payment as a homeowner, or that the residential property would pay for itself from rentals.
Job Market
All of us are aware that the job market has still not recovered from the so-called great recession. And it seems that economists don't agree on when the recovery will be complete. This factor alone, the soft job market, puts downward pressure on home prices.
It seems that the job market won't fully recover for quite some time. That said, it also seems that there is no rush to buy a home now, because a soft job market leads to a soft housing market.
The perfect prognosticator, the person who could predict when the job market will turn around and bounce back, would be an ideal person to consult as to whether or not you should invest in real estate now. Unfortunately, I've never met the perfect prognosticator. And, as far as I know, he/she doesn't exist.
Still, since a soft job market certainly leads to a soft real estate market, there are many valid arguments in favor of jumping into the fray now. The only caveat, which I will repeat, is that you feel confident that you will be able to meet the monthly payment over the long run, or you are confident that your rental income will be sufficient to pay your mortgage.
Short Sales
A so-called short sale is one in which the market value of a home is less than the amount owed to the bank. Real estate in such a case is said to be "under water" — that is, the water (the mortgage debt) is higher than the value of your property.
A short sale can be an excellent opportunity for the person who wants to invest in residential real estate now. He/she can possibly make a great deal with a lender, whereby the lender forgives the borrower/homeowner the amount of the debt that exceeds the proceeds from the sale of the home and allows the home to be sold for less than the debt owed to the lender. In many cases, the lender will agree not to pursue the distressed homeowner for any deficiency resulting from the home being sold for an amount that does not fully satisfy the borrower's obligation to the lender.
Please note that short sales can be somewhat involved and complicated and can potentially have downsides. The best way to avoid such complications is to consult a competent real estate attorney who could guide you through what could be a complicated process.
Property Liens
One final thing to be considered before purchasing a home is whether or not you will get clean title to the property, free and clear of all encumbrances. When a homeowner is financially distressed, it is not uncommon that he/she might resort to granting liens on the subject property in order to keep a lender at bay.
Additionally, it is likely that the homeowner has not kept the property taxes up to date. Keep in mind, therefore, that property taxes usually take first preference over all other liens.
For example, you might think that you're purchasing a piece of property at a great price, only to find that there is a lien holder who has a prior claim on the property. Once again, in order to avoid such an unattractive complication, you must be sure to consult a competent real estate attorney.
All of the above having been said, now might be a great time to purchase some residential property. If you have reasonable hope in the future, think about what you property could possibly be worth 10 or 20 years from now. In retrospect, you might have made yourself quite a deal.
Good luck!