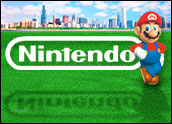 The diverging fortunes of Nintendo and Sony were underscored Monday when Nintendo's total stock market value eclipsed that of Sony for the first time.
Nintendo, whose Wii gaming console was the surprise hit of last year's holiday season, moved past Sony to become one of Japan's 10 most valuable companies.
Though the position was somewhat short-lived, with Sony recouping some of its value in overseas trading, the episode highlights the importance for electronics makers in putting out products that are solid hits with buyers.
Outselling the PS3
Kyoto, Japan-based Nintendo joined worldwide powerhouse companies such as Toyota, Honda and Canon on the list of Japan's most valuable companies.
In some markets, including Japan, the Wii has outsold Sony's PlayStation 3 by as much as 3-to-1, and Nintendo has sold twice as many consoles since they both launched late last year, according to research firm NPD.
Nintendo has also found traction in the portable gaming market, where its DS device has proven a winning follow-up to the Game Boy.
Sony, meanwhile, has had more than its share of stumbles in various markets over the past year, from high-profile worldwide recalls of its laptop batteries to production delays and shortages of the PS3.
Product Buzz
The early buzz around both DS and Wii may have helped ensure they will continue to sell well by encouraging third-party gaming software makers to design more titles for the platforms.
"Nintendo positioned Wii very well to maintain its market momentum," said Strategy Analytics analyst David Mercer. While the unique operating controls of the Wii are a major selling point, its lower price also made it an appealing alternative to less hard-core gamers than the Xbox 360 and the PS3.
Sales differences from the first part of this year may be somewhat exaggerated, Mercer said, because sales typically tail off after the holiday season. A clearer picture of the market will emerge heading into the later part of this year, as game publishers decide which platforms to throw their resources behind and as consumers anoint a new best seller.
Sony once dominated the US$30 billion-per-year gaming industry, setting the standard with its original PlayStation and its strong follow-up PlayStation 2. More recently, both Microsoft, with its Xbox and Xbox 360, and Nintendo, have stolen away market share.
Sony designed the PS3 to be a ultra high-end gaming device, a decision that significantly drove up component prices and forced Sony to put the console on the market with a higher price tag than rivals' offerings. Meanwhile, the Wii became a surprise smash, with its motion-sensor controls providing a more active, life-like experience that captured the imaginations of audiences that have not traditionally been big gamers, including younger women and older adults.
The result has been white-hot demand for the Wii, with Nintendo citing NPD data that shows it is the best-selling console in a decade based on sales since last November.
A similar picture is emerging on the portable device side, with NPD estimating that in May, Nintendo sold 340,000 Wiis in the U.S., while Microsoft peddled 155,000 of its next-generation Xbox and Sony managed to move just over 81,000 of its PS3 consoles.
Price Cuts Ahead?
Sony suffered steep losses as it ramped up PS3 production, spending millions to develop high-end capabilities and a processor that is fast and powerful enough to be found in some super-computing settings. In the year ending in March, Sony said it lost some $2 billion in the gaming business.
Those losses were compounded in 2006 by the tens of millions it spent sending out replacement laptop batteries to millions worldwide who had bought computers from Apple, Dell and other major PC makers.
More recently, Sony has said it has gotten the red ink in the gaming unit under control and it may have other strong marketplace winds at its back as well. Its digital TVs are expected to sell well this year and its Blu-ray platform for high-definition DVDs is winning widespread support from Hollywood studios and, more recently, Blockbuster, which will make Blu-ray disks more widely available than the rival HD-DVD format.
All that may enable Sony to cut the prices of PS3 this year. Such a move and the availability of more gaming titles for the platform, could help push the device ahead of its rivals this year.
"Having more game titles is a major plus — particularly if one or more of them is a big hit," Yankee Group analyst Michael Goodman told the E-Commerce Times. "But price still seems to be the issue. Not many people have been willing to plunk down $600 just yet. If that price comes down a bit, that could make a big difference."