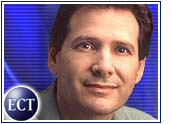 Hoping to capitalize on one of the fastest growing segments of the travel industry, discount online travel agency Savvio.com launched its site Thursday with a customer service model it thinks will help it fly by competitors.
The Alviso, California-based company does away with the blind purchasing process made popular by Priceline.com and instead allows users to view full itinerary details, such as departure/arrival times and ticket availability, before providing credit card information.
"As we developed this site, we spent a lot of time talking to customers who were frustrated by other discount travel sites that forced them to make blind purchases," said Savvio.com CEO Karen Ha.
Savvio's pricing structure roughly follows the reverse-auction model; tickets are put up for sale in blocks and fares fall depending on the number of customers who make purchases. The Web site displays how many tickets remain at a given price as well as the airline and travel times.
Savvio.com, which specializes in airfare and cruise bookings, also says that customers will be able to earn frequent flier miles on most flights.
Competition Heats Up
Savvio.com is the latest entrant in an increasingly crowded field. Making another recent debut was Hotwire, a discount broker site backed by six major airlines that offers last minute and nonrefundable deals.
Both companies are striving to snag fliers who have been frustrated by Priceline's rigid polices. Although Priceline has excelled at liquidating products, its rapid ascent left many consumers complaining about late-night flights, numerous stopovers, hidden charges and poor customer service.
According to published reports, the Connecticut Better Business Bureau has logged 111 complaints against the company thus far this year, compared with only one for the state's largest brick-and-mortar travel agent.
It has also been reported that of the 77 complaints lodged against travel agents with the U.S. Department of Transportation in 1999, 27 were against Priceline — despite the fact that Priceline booked only 1 percent of all flight traffic.
Niche Takes Off
Recent studies demonstrate that the online travel industry has significantly altered the way leisure travelers buy tickets and plan vacations.
According to the July 2000 PhoCusWright Yearbook Update, online travel is the fastest growing e-commerce industry, expected to mushroom from $7 billion (US$) in 1999 to over $20 billion in 2001.
Forrester Research forecasts that online travel sales will climb to $29 billion by 2003, a four-fold increase from last year's level.