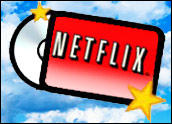 It appears Netflix is getting ready to begin schlepping content, which would position the video rental and streaming company as a content creator. The move is reminiscent of HBO's emergence a premium content producer in the early days of cable.
Netflix is in advanced talks about pumping out an original TV series, inside sources told The Wall Street Journal. The possible deal involves a drama produced by Media Rights Capital based on a British miniseries called "House of Cards." The series would be directed by "The Social Network" director David Fincher and would be executive produced by Kevin Spacey, who would also star.
The episodes would run on Netflix's instant streaming service. If this deal goes through, it could make Netflix a new type of hybrid competitor in the television industry — content provider/ producer. Netflix would have the rights to the first broadcast, but Media Rights Capital could make arrangements for future broadcasts or DVD releases, according to the WSJ's source.
Leader of the Pack
Netflix currently holds 61 percent of the streaming movie market, but recently received some new competition, with Amazon's addition of streaming video to its Prime service.
Netflix has more than 12 million subscribers, over half of them using the instant-viewing option at some point.
Netflix reportedly outbid several major cable stations for the drama series, but it's keeping mum on the rumors. "We're not commenting on this," Steve Swasey, VP of corporate communications, told the E-Commerce Times.
A Possible Goldmine
While investing in content is always a big risk, the foray may be a brilliant play by Netflix. Providing original content is an original move for a streaming company.
"I give them a lot of credit," Laura DiDio, principal analyst at ITIC, told the E-Commerce Times. "My first reaction is Blockbuster must be kicking themselves repeatedly. They had a chance to buy Netflix. This is a very prescient move. There are so many outlets and so many different devices to view data, download data, why shouldn't they look at it?"
Netflix would be adopting a model that has become well established.
"Look at HBO and Showtime or even the independents with 'Smallville.' They were very successful — so it makes sense for Netflix to do this," said DiDio. "The other thing is they're going with a series based on the British miniseries "House of Cards." A lot of the Brit-coms get to the United States. It used to take a few years, now it's a year or less. There's this insatiable demand for content."
Netflix is aiming for the big guns with its first effort, assuming the reports are correct. By bringing in a top actor and an Award-winning director, Netflix is betting the series will find an audience. Plus, the match of British theater with top Hollywood professionals looks like a winning combination.
"Kevin Spacey has been working abroad with the British theater," said DiDio. "Now they're matching British theater with Fincher of 'The Social Network.' That's excellence meets excellence. It tells you they're trying to stay ahead of the competition."
The March to Online TV
Viewing TV content online continues to grow in popularity. The low price of US$7.99 a month for Netflix instant streaming looks appetizing, compared to ever-growing cable-TV bills.
"I think this is part of the steady march to online TV," Al Hilwa, program director, applications development software at IDC, told the E-Commerce Times. "There is no doubt that this will take share from cable over time."