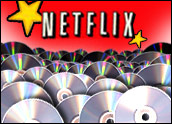 Netflix cut its domestic subscriber forecast on Thursday by one million customers in the wake of a major change in the company's pricing structure that favors its streaming-only service.
The company discontinued its US$9.99 monthly streaming and DVD-rental plan and replaced it with two plans, $7.99 for streaming only and $7.99 for one DVD at a time. Together the plans cost $15.98 — a 60 percent increase over the previous combined package.
Netflix no longer expects to report growth in its U.S. customer base for its third quarter. It lowered its July 25 guidance of 10 million users for its streaming-only plan to 9.8 million in the new guidance. The DVD-only option saw a larger drop, moving from the July 25 guidance of 3 million users to 2.2 million users in the revision.
Netflix's stock price fell 18 percent on the revisions.
In a statement to shareholders, Netflix noted its international subscriber guidance remains unchanged.
Dissing Customers
Netflix has long had a sterling bond with its market. The company has been a well-oiled machine that created a business model that pretty much dispensed with the classic video store. Thus, the stir over the new price structure is a rare stumble.
"Raising their prices was a big mistake on their part — not just raising their prices, but raising them as much as they did," Paul Verna, a senior analyst at eMarketer, told the E-Commerce Times. "They could have gotten away with a small incremental increase. They way they did it was a slap in the face of their customers."
The outcry was predictable, he said, and the lower guidance and the stock drop are logical extensions of the price increase.
"This is a company that put such a premium on customer service. The price rise was very uncharacteristic," Verna remarked.
So what does Netflix do now? Accept the hit and move on? Or should the company try to repair the damage?
"They could fix this, but I don't think they're going to," said Verna. "They could try to show their customers they do feel their pain with a price cut of some sort."
Hulu made a similar price blunder on a much smaller scale, he noted. "When Hulu launched, it was $10 per month. Sure enough, they took the price down. Netflix could backpedal. They would be embarrassed, and they would lose some business, but it would give them back the strong connection to their customers."
Then Again, Maybe Netflix Has It Right
Of course, another point of view is that Netflix knows exactly what it's doing. Perhaps it saw this as a necessary tunnel to traverse that will end with a bright light and further growth.
"Actually, I think Netflix really just has to keep doing what they're doing," said Steven Savage, technology project manager and Geek 2.0 blogger.
"Netflix is the best there is, and people know it. The company is already busy expanding to other countries — their goals are obviously global," he told the E-Commerce Times.
The new pricing structure may be deliberately designed to leverage the market into new technology and a new business model.
"Netflix thinks streaming is the future and they're adjusting to it," said Savage. "Frankly, they're pushing people towards it. This pricing move also helps Netflix push media producers towards streaming."
There is no serious non-niche competition heating up against Netflix, he pointed out, which may give the company freedom to make a quick move that's unpopular but that shifts the market in a favorable direction.
"Their biggest danger is actually cable providers, and that's not so much competition with streaming," said Savage.
Netflix has a bright future, in his veiw, stumble or no stumble.
"Netflix has not peaked yet," said Savage. "Someday they will peak and plateau, but not yet — not when there's an entire world out there and they're a dominant brand."