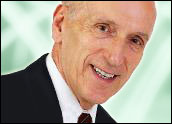 In a recent article for the E-Commerce Times entitled "Getting Serious About Energy Independence," I outlined what I thought was the general direction the country should take in order to conserve energy and ultimately become energy independent. I was pleasantly surprised to receive an e-mail from the President of National Energy Services Company John Grillo offering still more suggestions on how we as a nation can become energy independent. (National Energy provides specialized equipment and gate-keeping services to a variety of industries, assisting them in reducing their energy costs.)
I answered John's e-mail and told him that he should feel free to call me if he had further comments. When he called, our conversation turned into an interview of sorts that went as follows:
Short-Term Mindset
Theodore F. di Stefano: John, give me some specific tips that will help American consumers save money on energy.
John Grillo:
One word: conservation. So much of today's emphasis has been placed on reducing the price of what we pay for gasoline, electric, or natural gas, and energy conservation has taken a back seat. As a nation, this is a big mistake. Unfortunately, the leadership of this country has placed more focus on production than conservation. My view is that they are equally important and must go hand in hand if we are to get a handle on our energy problems. While producing energy at a lower cost is very important, we also have look at the other side of the equation: usage.
While most home owners and business managers are powerless to pay significantly less per unit of energy they purchase (i.e. kilowatt or therm), they can take actions to use less. The fact is, many environmentally conscientious people even pay more per unit of energy to assure that it was produced in an environmentally friendly way, but then disregard many proven methods of conservation. Take, for example, the compact fluorescent lamp (CFL) or light bulb. Pricing of the CFL has dropped more than 75 percent in the last several years; the performance is outstanding. Utility companies and the government have subsidized the purchase of CFLs and at times given them away. Yet their usage is still severely underutilized. The CFL could not be a more simple-to-use, easy-to-understand method to save money. This is just one example of the hundreds of proven methods to reduce energy use, but Americans seem to be focused on costs first and short-term gains as opposed to the significant gains that can be derived from prudent investment and planning. The fact is that with today's high energy costs, most commercially available energy conservation measures (ECM) produce first-year returns between 40 to 100 percent and simple paybacks of less than two years. Where else can you get that type of return on your money?
'Unauthorized Purchase Order'
di Stefano: How about businesses? Can you provide me with some examples of how businesses can save money through energy conservation and how much money they could potentially save?
Grillo:
Depending on the business type, there are many ways to reduce energy usage. Energy efficient lighting and HVAC (heating, ventilating and air conditioning) upgrades, real-time management and metering of energy use, building envelope improvements (roofs, windows and insulation) and premium efficient motor upgrades are all relatively easy methods to assure that the operation is not paying for more energy than it needs. If you think about it, energy is a major cost for most operations, yet it is probably the only major expense that is bought without a purchase order. Every time an employee turns on a computer, prints a document, runs a piece of equipment, leaves the lights on or turns up the heat or air conditioner, they are buying electricity or therms from their utility company — all unauthorized. That's why I call energy an unauthorized purchase order. Management needs to assure their building systems are operating most efficiently and the staff understands the ramifications on the cost side of each action.
Most operations can reduce their energy costs by 10 to 15 percent by assuring the building systems are efficient and by monitoring usage more closely, just as with any other cost center.
di Stefano: Do you have any advice for the federal government as to an ideal path that should be followed in order for our country to become energy independent?
Grillo:
While most experts agree there is no one answer, I believe that additional attention should be paid to supporting energy conservation. Although the Energy Policy Act of 2005 signed by George Bush did include some tax incentives for conservation, they are expiring at the end of 2008. This type of [start/stop] policy making makes it difficult to plan future capital projects. A long-term, comprehensive plan of tax incentives for both production, conservation and investment in R&D for alternative energy sources will allow the capital markets and business operators to make long-term investments on both sides of the energy equation — unit cost and usage.
The Energy Problem Won't Go Away
Both John Grillo and I agree that the country is faced with a problem that must be addressed.
The more people become aware of the importance and urgency of energy conservation, the more as a nation we can solve this problem. And I have no doubt that we will.
Good Luck!
---
Theodore F. di Stefano
is a founder and managing partner at
Capital Source Partners
, which provides a wide range of investment banking services to the small and medium-sized business. He is also a frequent speaker to business groups on financial and corporate governance matters. He can be contacted at
[email protected]
.
---