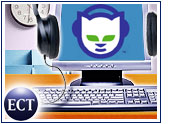 Subscription digital music service Napster posted one of its best quarters as a public company, with record revenue and a smaller financial loss.
The Los Angeles-based firm lost US$2.8 million, or 6 cents per share, in its third fiscal quarter, compared with a year-earlier net loss of $9.5 million. Revenue rose 15 percent to $32.8 million, the most the company's ever recorded in a quarter but just below the $32.9 million analysts had been looking for it to report.
"Napster made strong progress during the quarter," said CEO and Chairman Chris Gorog.
The quarter marked Napster's third in a row of positive cash flow, a metric that suggests the company is making progress toward becoming consistently profitable, he noted. Still, Napster remains in growth mode, Gorog added, having expanded into Europe and Latin America recently along with upgrading to its core service and establishing new partners in the wireless space.
Napster shares were down modestly in Thursday afternoon trading, giving up a half a percent to $1.72.
A Changing Landscape
Despite the improved financial performance, Napster did see its membership base of paid subscribers shrink slightly to 743,000 in the December quarter, down less than 1 percent from the end of the previous quarter in September.
Napster's outlook is for relatively tame growth as well, with revenue of $29 million to $31 million in the current quarter and $125 million in sales for the full fiscal year, a 17 percent increase.
"We expect that the coming year will be an exciting period of growth for Napster," Gorog said.
Napster should be in a position to benefit from a shrinking competitive base, especially in the wake of the decision by Yahoo to shutter its Music Unlimited service, which leaves Rhapsody and Napster to compete with Microsoft's Zune service.
What's Ahead?
Subscription services are still expected to surge in coming years, with the market more than doubling in the next four years to be worth around $600 million by the end of 2012, according to JupiterResearch. By comparison, digital downloads in total will be worth $2.8 billion by that time.
A key question for Napster and the subscription market overall will be whether Apple ever breaks down and offers a subscription service, noted JupiterResearch analyst David Card, which could provide both growth to the market and a formidable competitor to Napster. Also, such a move would test whether users are willing to adopt ad-supported alternatives in large numbers.
"The ad-supported services are going to continue to grow, but probably not with the music lovers who like subscription plans," Card added.
Going Mobile
Napster's best chance for robust growth may lie in the mobile arena, where it is has been aggressively expanding its partnership roster to include mobile carriers around the world. A recently announced deal with Telecom Italia, for instance, gives it access to 35 million subscribers, while Latin American player Entel PCS is offering Napster to its 5.5 million customers.
In November, meanwhile, Napster and AT&T said Samsung would begin producing a handset with the Napster mobile service built in. AT&T is also the exclusive mobile carrier for Apple's iPhone.
Those mobile partnerships dramatically expand Napster's potential audience and market, though how willing consumers are to turn their phones into music players is still a matter of debate, Inside Digital Media Principal Analyst Phil Leigh told the E-Commerce Times. In the U.S. and other key markets in particular, the consumer may prove reluctant to pay for a new mobile music service, especially those who have already paid to load their MP3 players with music.
"The iPod got such a head start as the mobile player of choice that it's going to be difficult to get people to change," Leigh said.
Making Progress
Still, Napster has made progress in positioning itself as the third party provider of choice in the mobile space. That could prove valuable if other carriers, such as Verizon, decide to give up their proprietary, in-house music services in favor of a third-party partnership deal.
Napster also is making progress in its efforts to switch its catalog of music available for download purchase to MP3 format, making it compatible with more devices, it said. That changeover should be completed sometime in the second quarter.