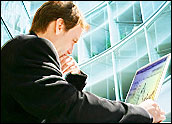 Over the past five years, 42 of the technology companies that Mercury Ventures has invested in have made the transition from publicly traded to private firms.
That is part of a larger trend among smaller publicly traded companies, for whom the benefits of being public no longer clearly outweigh the burdens of complying with the regulatory requirements that come with the territory.
"Any company that is under (US)$200 million market cap, it has a real difficult time being public," Kevin Howe, the CEO, president and chairman of strategic planning and modeling software maker River Logic in Dallas, told the E-Commerce Times.
Rethinking the Value of Being Public
In addition to serving on the boards of dozens of private companies, Howe has also served on public boards and said the stresses and costs of compliance rest especially heavy these days on mid- and small-market tech firms. Howe is also a partner in Mercury Ventures.
"The costs of meeting Sarbanes-Oxley [compliance] alone have probably quadrupled auditing costs," he noted. "If I have a company with $100 million in revenue and I was spending $500,000 a year [for] five years, I may be spending $2 [million] to $2.5 million now. When you think about 2 percent of your sales going out the door — that's not even counting internal staff it takes to do the compliance — you start to rethink the value of the visibility of being public."
Even after a year that saw scandals, corporate credit crunches and recessionary fears reach the boardroom, compliance remains the topic that industry boards wrestle with the most, a concern that is helping to spawn a cottage industry of its own as vendors seek to make it easier for companies to scale the various regulatory hurdles put in the post-Enron world.
Five Years and Counting
While there have been updates to Sarbanes-Oxley — which was passed in 2002 as a direct response to scandals such as Enron and WorldCom — including new auditing standards, most have done little to reduce what the Competitive Enterprise Institute's Center for Entrepreneurship Director John Berlau described as "meaningless paperwork."
"Smaller companies have the least resources available to comply," with the reporting and internal control requirements of the legislation. "There is a strong need for Congress to not only overhaul the law in general but move to exempt smaller companies as well," he told the E-Commerce Times.
The past has shown that those small companies in technology and other fields can grow into major public corporations that generate billions in investment returns for investors and create thousands of jobs. Passed to protect investors from corporate abuses, the law may actually be keeping firms from raising capital they need to grow and hampering investors' ability to grow wealth, Berlau argued.
Ironically, Howe said, the disclosure required by Sarbanes-Oxley may not have helped prevent the Enron meltdown. "They disclosed thousands of pages of documents — the problem was that what they were doing was so complicated, no one could analyze and understand it."
Lending a Helping Hand
Not everyone sees only the negative with respect to the regulatory environment. Betsy Atkins, who has served on a number of public boards, including those of Lucent, British Telecom and Nasdaq and who testified as a corporate governance expert witness in the closely watched Adelphia bankruptcy trial, said many of those companies could benefit strategically and competitively from having a more robust auditing and monitoring structure in place.
"There is definite value that has come out of this for small, and medium sized companies," Atkins told the E-Commerce Times.
Not surprisingly, many technological solutions are being offered to the compliance conundrum, from full end-to-end solutions to specific software applications.
Beyond compliance, Atkins said she believes boards are worried about who is going to run the company, tackling succession planning and continuity of leadership questions — ensuring a business will thrive even when a CEO departs. Good boards also spend time considering ways to help their companies stay ahead of their competition.
Ignoring the 'R' Word
Other hot topics include many of those to be the subject of the presidential election, such as immigration. Many tech companies back moves to expand the number of H-1B visas issued to highly skilled foreign workers.
Global issues are also on the minds of board members, said Kaihan Krippendorff, a former McKinsey & Co. consultant and author who runs several strategy meetings involving board members and executives from top public companies each year.
Those sessions often offer a "peek around the corner at what is coming next," he told the E-Commerce Times.
Large companies do think about the current downturn, Krippendorff said, but are also looking ahead to larger questions. "They're thinking about being green and how green initiatives can become a true competitive advantage." They're also constantly pondering innovation and the question of how large corporations can "unshackle themselves from structure to unlock innovation."
Despite the near-obsession in the media and among politicians with the question of whether the United States economy has slipped into a recession, boards may not be as concerned about economic vitality as one might think.
The nature of the downturn is different because of where the technology sector is and has been in recent years, Howe noted. "The past recession was troublesome for all tech companies because so much had been invested during the 1990s in technology that a company with a new idea going into that [market] was absolutely devastated. This economy is totally different. Companies are revisiting what they do and how they do it. For young tech companies with a good idea, there are still opportunities out there."