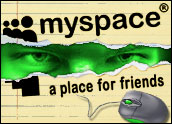 Social networking site MySpace is suing a high-profile e-mail marketer, claiming that he violated the site's rules and state and federal laws by deluging members with spam.
MySpace said Tuesday it had filed a suit alleging that Scott Richter had violated the federal CAN-SPAM Act and California's anti-spam statute.
The lawsuit, filed in U.S. District Court in Los Angeles, asks a judge to grant a permanent injunction barring Richter from accessing MySpace, as well as unspecified monetary damages.
Richter is no stranger to the spam community. Known as the "spam king of Colorado," Richter had been sued by New York State Attorney General Eliot Spitzer and Microsoft for sending unwanted messages to New York-based users of Hotmail, Microsoft's Web-mail service.
That suit was eventually settled, with Richter paying millions of dollars in damages and agreeing to change his e-mail marketing practices.
"We're committed to protecting our community from phishing and spam," said Hemanshu Nigam, MySpace's chief security officer. "If it takes filing a federal suit to stop someone who violates the law and damages our members' experience, then that's what we'll do."
The suit is sending a clear message to MySpace's 100 million-plus users that the company is actively attempting to reduce the amount of spam and unwanted contact with users.
Phished Accounts
The MySpace complaint alleges that during the last six months of 2006, Richter and unnamed associates sent millions of spam messages to unknowing MySpace users.
Currently the CEO of Media Breakaway in Westminster, Colo., Richter had previously run OptInRealBig.com when he was targeted by Microsoft and Spitzer.
Last fall, Media Breakaway said it had surpassed the 1 million lead generation milestone in Google's AdWords program. Attempts to reach Richter were unsuccessful.
MySpace, however, said Richter either phished MySpace account information directly or acquired a list of phished accounts to launch spam campaigns promoting Web sites that sell ringtones, shirts and other products.
The social networking site, which News Corp. purchased in mid-2005 for US$580 million, said the lawsuit was just one of several "aggressive steps" it is taking to help combat spam and other misuse of the vast and growing network of individuals, mainly young people, who use the site to post video clips, blogs, photos and other information about their lives.
The company has already settled several earlier lawsuits, including one against the distributor of an automated Internet bot that sent spam to MySpace users, and a federal suit that was lodged against an affiliate program being promoted via spamming.
In addition, the company sued TGLO/The Globe for allegedly spamming MySpace users and violating the site's terms of use agreement. It has also helped law enforcement agencies pursue criminal action against other spammers.
Fertile Ground
The action comes a week after MySpace found itself on the other end of a legal dispute after four families sued it and News Corp., alleging that the companies' negligence contributed to their children being exposed to predators on the site.
To help boost its public image, MySpace said it would join the Amber Alert program, which issues notifications of missing children — MySpace members in certain geographical areas will be able to receive messages when law enforcement agencies issue a missing child alert.
MySpace has also said it would offer parental control features designed to help people shield children from unlawful activity on the site. MySpace and similar sites are a fertile ground for spammers who are willing to ignore or disobey a site's rules of use.
"The idea of using these sites is to make new contacts and connections, so they can't be closed down to that type of discovery," said Forrester Research analyst Charlene Li. "At some point, however, the user experience may be compromised by that same openness."
In fact, spam is a concern for just about all so-called Web 2.0 or social computing applications, including blogs — many bloggers shy away from opening up their posts for comments out of fear of being deluged with spam-style commercial messages.
The aggressive moves against spam may also reflect a changing demographic at MySpace, in which the percentage of users between 14 years old — the minimum age required to establish a MySpace profile — and 24 years old has dropped from more than 40 percent in 2005 to less than 34 percent last year, according to figures from comScore Networks.