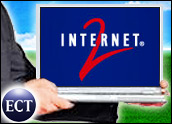 The industry groups representing movie and music studios have joined Internet2, a consortium using higher-speed networks in college campus settings, saying they would examine possibilities for new content distribution models.
The move by the Motion Picture Association of America (MPAA) and the Recording Industry Association of America (RIAA) comes just months after the two groups sued students it says were using their access to Internet2 to illegally share music and movie files.
Studying Opportunities
The groups said they would work with the existing Internet2 community to "consider innovative content distribution and digital rights management technologies, and to study emerging trends on high-performance networks to enable future business models."
"We look forward to collaborative work with a broad spectrum of Internet2's members to develop new technologies that will enable us to produce and distribute digital content over next generation networks in ways that protect and enhance the value of creative works," said RIAA President Cary Sherman.
Internet2, an ultra-high-speed private network designed primarily for research, is considered a test bed for new technologies developed together by researchers from universities, government and industry.
The Internet2 is supported by about 200 universities across the U.S., which gain access to the private network primarily for research. Some schools also let students access the network for independent research, which is where the associations believe the file-swapping took place.
Big Time Players
Corporate members and partners of the Internet2 consortium include Cisco Systems, IBM, Microsoft, HP and Apple.
By linking up with the group, the studios may get early looks at new technology being developed for distributing and protecting content. They may also be able to have a voice in steering research efforts.
Forrester Research analyst Josh Bernoff said establishing legitimate avenues for downloading of digital content is critical for the industries if they want to stop illegal swapping.
The movie and music studios alike have seen what Apple's iTunes has done for digital music — though there are skeptics who say that illegal file-sharing is still rampant but more underground, despite months of lawsuits by the studios — and want to plan sound strategies for using the Internet to distribute their content.
"Consumers say they're ready to buy more content online," Bernoff said. "It's just up to the studios and other player to figure out distribution questions."
Glimpse of the Future
Working with Internet2 will give the entertainment industry a window into the future, when faster networks and connections enable consumers to download even the most data-intensive files in minimal time.
The industry groups are hoping the research will provide not only new distribution methods and more sure-fire digital rights management tools to protect material from piracy, but possibly even suggest new ways to produce various types of media to enable digital distribution.
Yankee Group senior analyst Mike Goodman, who covers peer-to-peer (P2P) file trading, said Internet2 is ideal for distributing media and will help the industries understand what the all-broadband world will look like. "Internet2 was designed to make large file transfers happen quickly," he said.