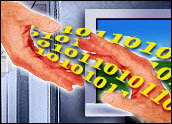 Looking to add new weapons in their arsenal against illegal file-swapping, movie and music industry groups have begun to offer a free software program aimed at helping users avoid illegally sharing files and are calling on corporations to monitor their own networks for potentially illegal activity.
The Motion Picture Association of America (MPAA) and the International Federation of the Phonographic Industry (IFPA), which represents music labels worldwide, have begun offering up Digital File Check, a software program that can block or remove file-sharing programs from a user's computer and delete files from shared folders, which are often used by peer-to-peer (P2P) sites to enable file sharing.
The program is being made available through free download and in CD format starting mainly in Europe and the UK.
The IFPI considers the program an "educational tool aimed at making life easier for people who want to enjoy music responsibly and legally on the Internet, or who want their families, friends and colleagues to do so," said CEO John Kennedy.
Kennedy said the technology backs up the efforts by music and movie studios to enforce their intellectual property rights through the hundreds of lawsuits that have been filed against alleged song swappers worldwide and can provide peace of mind for those who are concerned about having unwittingly downloaded protected songs.
Preaching to the Choir?
Analysts said the technology is unlikely to give hard-core file sharers any reason for pause, however. Since downloading or installing the software is voluntary, only those concerned about being caught in violation of the law are being targeted.
On the other hand, it could be effective in getting two groups to do their part to stop others from sharing files — namely parents and business owners.
Parents may install the software to purge home computers of illegally downloaded songs, while businesses are being pushed to take control of their networks with the technology.
"We want to arm companies, parents and responsible computer-users with a simple resource to help them detect file-swapping software and get lists of the movie and other files stored on their business and home computers," said MPAA President and CEO Dan Glickman.
In fact, the two groups joined with the International Chamber of Commerce to unveil an educational effort aimed at bringing business owners up to speed on "their responsibilities to clean their computer networks from copyright infringement," said Glickman. That program will also begin with efforts in continental Europe.
Some analysts said that move could be a harbinger of coming legal action against businesses that do not do enough to stop piracy from taking place on their networks. File swappers may favor corporate networks for such activity because they provide a higher degree of anonymity but also because they are often faster than home computers.
Change of Course
Analysts said it would likely be only a matter of time before hackers discover ways to disable or work around such swap-halting programs. And others say the music and film industries need to embrace the opportunity presented by the Web's wide distribution capabilities, rather than trying to continually fight against them.
Jupiter Research analyst Mark Mulligan said any gains the industry makes against swapping, such as the near demise of Kaaza, once the top P2P network, is a temporary victory at best for the music industry. "There's a risk that file sharing might come back stronger," he said.
Mulligan said the music industry might be well served to launch its own free music download sites. Once users began turning to such legitimate free sites, labels can "start marketing not just the paid services at them, but also good old fashioned CDs, videos, DVDs and even ring tones."