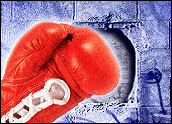 MoveOn.org, the civic and political action group best known for espousing Democratic ideals, has launched a campaign aimed at pressuring Facebook to change its privacy policy in the wake of a newly launched advertising program.
Using a Facebook page and its own Web site, MoveOn is collecting signatures on a petition demanding that Facebook "respect users' privacy."
MoveOn's disdain is aimed mainly at Facebook's new advertising program, known as "Beacon," which automatically posts information to a user's Facebook profile about their online purchases and other activities.
Facebook gives users the choice of opting out of the Beacon program through its privacy policy, but MoveOn believes the nature of the ad program demands a tougher policy, one that requires that users opt in before having their information tracked and posted in the program.
"A lot of us love Facebook — but they need to take privacy seriously," the Facebook page about the petition reads. "Facebook encourages companies to get 'word-of-mouth promotion for your business' to 'millions' by using the new Beacon feature. But the rights of Facebook users get left behind."
Piling On
In recent weeks, both Facebook and rival social networking site MySpace have launched new advertising programs meant to leverage the millions of users of the sites, many of whom spend extensive time on the networks and elsewhere on the Web.
Both launched hyper-targeting advertising platforms meant to allow advertisers to pinpoint targets for their marketing messages by using information in users' profiles, such as what types of movies they like and their careers and hobbies.
Facebook's Beacon program funnels information about a user's Web activities back to their profiles, where it can be viewed by their network of friends. For instance, if a user buys something on an e-commerce site, a note describing what and where was purchased is added to the user's profile. Or if a user posts a review of a restaurant or hotel on some sites, that information can also be pulled into the profile.
The idea is to help turn active Web users into trusted sources of referrals for others, a digital twist on the type of product, restaurant and destination recommendations friends often share in person.
MoveOn says while users can opt out, the nature of the program makes that an unwieldy option, since users must opt on each participating site where they shop.
An 'Obvious Solution'
"The obvious solution is to switch to an 'opt in' policy, like most other applications on Facebook," the group wrote on its Facebook page.
Facebook notes that no information is shared with a user's friends through a profile until they first allow the information to be collected when making the purchase and then confirm that they are willing to have it shared the next time they visit Facebook.
MoveOn is not the only entity that has raised concerns about the new program. Earlier this month, The New York Times reported that the social ads may violate New York state law. In addition, the Federal Trade Commission (FTC) has been pressured by privacy groups and others to create a do-not-track list that would enable Web users to opt out of a range of marketing-focused tracking programs at once.
Tapping the Well
The social ads are an attempt by Facebook to monetize its massive and active user base by creating opportunities for word-of-mouth marketing, Sterling Market Intelligence analyst Greg Sterling told the E-Commerce Times.
"This could be very powerful, particularly in the context of local businesses, which rely heavily on word of mouth to grow their customer bases," Sterling said.
The approach is natural for the social networks but also raises inevitable privacy questions and concerns, said Forrester Research analyst Charlene Li.
"Users of these networks may be more willing than others to have their information shared," Li told the E-Commerce Times. "After all, the reason people join these networks in the first place is to be found by others who they share things in common with."
Still, the program needs to steer clear of being seen tricking users or not being clear about the parameters. "There may need to be some adjustments made to the notifications to make sure it's clear at the outset," Li said, adding that over time, as awareness of the social ads grows, surprise will be less of an issue.