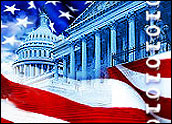 Two of the biggest remaining Web-based gambling sites began to back out of the U.S. market Monday after Congress passed legislation over the weekend aimed at cutting off the flow of money to Internet casinos and sports betting parlors.
Both PartyGaming.com and 888 Holdings said they would start winding down operations, presumably timing their shutdown to coincide with the signing of the bill.
Shares Take a Hit
Both said they would await legal advice and further regulatory clarification as to how the new legislation may impact them before resuming operation. A spokesperson for the Bush White House said Monday the president would sign the bill containing the anti-gaming provision as early as later this week.
In London, where many of the Web gaming sites are publicly traded, the news led investors to quickly wipe out some US$7.5 billion worth of stock-market value for a half-dozen gaming sites. The U.S. is typically one of the top two markets for those companies, and losing access to it is expected to force some companies to consolidate or shut down entirely.
The legislation passed, somewhat unexpectedly, on Saturday, as lawmakers were finalizing the Safe Ports Act, a homeland security-related bill. The legislation makes it a criminal offense to accept funds for any online gambling activity that is illegal under state or federal law.
The action by lawmakers comes after several months of increased law enforcement activity aimed at Internet gambling. Within the past six months, the chairman of Sportingbet was arrested on state charges and former BetOnSports CEO David Carruthers and others were indicted on federal charges in connection with the operation of that Internet casino, which has since shut down its U.S. operations.
Unclear as Ever?
Some said the legislation may not provide as much clarity as many expected, especially since it includes so-called "carve-outs" to protect existing legal forms of gambling, notably horse race betting, and because state laws vary widely on what gaming is allowed.
As it stands now, law enforcement has been relying on decades-old regulations to press cases against overseas gaming sites.
The law will likely disappoint supporters of online poker and other games who had advocated for a law that formally legalized and regulated online gambling. Doing so would enable poker sites to ban underage players and regulate how much gamblers spend to avoid problems, advocates of that approach have argued.
The bill's passage "reeks of political gamesmanship," said Michael Bolcerek, president of the Poker Players Alliance, a group he says now counts 110,000 poker players as members.
"The American people should be outraged that Congress has hijacked a vital security bill with a poker prohibition that nearly three fourths of the country opposes," he said, citing a survey commissioned by his group in April that found 74 percent of Americans oppose efforts to ban Internet poker. "Allowing this bill to become law would run contrary to public opinion and would damage an already fractured relationship between government and the electorate."
Some banks and other financial institutions also had misgivings about the legislation, though it appeared most of their concerns had been addressed in the final version of the bill.
Taking a Gamble
Even though there has long been widespread support for clarifying the rules on Internet gambling among lawmakers, the bill's weekend passage took even close observers of the gambling industry by surprise.
Uncertainty about the law's applicability in special cases, such as states where gambling is legal, seemed poised to hold up passage, according to Julian Easthope, an analyst at investment research firm UBS. Most observers thought the law would be revisited sometime during 2007.
"This will have a very material impact on the long-term prospects of online gambling — and in particular, poker," Easthope wrote in a research note. While die-hard online gamblers will still find ways to place bets, the new regulation is likely to cut off the lifeblood of online gambling sites: new and relatively inexperienced gamblers.
Those newer members also provide the profits needed to pay the experienced players who can actually win fairly regularly against the house in some forms of poker play.