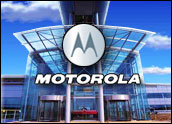 The strength of the Razr phone helped pushMotorola to strong fourth-quarter earnings and revenue results — but, like other tech companies, it failed to meet or exceed expectations.
Motorola also acknowledged some operational difficulties, with profit margins lower in the quarter for all of its mobile phones, and some supply chain issues that hurt its ability to meet worldwide demand for its best-selling products.
Sales, Revenue Increase
Still, the phone maker posted an 18 percent increase in sales to US$10.4 billion, slightly below what most analysts had been expecting. Profit was up by 86 percent to $1.2 billion, about in line with forecasts.
Schaumburg, Ill.-based Motorola said supply constraints would not be an issue in the coming quarter and year, which will see it roll out new high-end phones in the U.S.
"This should not be an issue going forward," CEO Ed Zander said in a conference call to discuss the results.
Progress of those new phones will be closely watched, as will Motorola's partnership with Apple, which has yet to bear fruit. To date, the joint venture Rokr phone, which can store and play about 100 MP3-format songs, has not lived up to expectations, helping to drive rumors that Apple may roll out its own line of phones in 2006.
Even with the supply issues, Motorola managed to ship a record 44.7 million handsets, with 13 million of those, or about 20 percent, coming from the Razr family, which aims at the high end of the market and has been seen selling well, in large part because of its sleek design.
Although it posted record shipments and strong profits, Motorola fell victim to the same ailment that hit Yahoo, Intel and others. Strong quarters notwithstanding, the tech companies were unable to exceed Wall Street forecasts, which — combined with outlooks that disappointed some — sent their shares tumbling. Motorola stock was down more than 6 percent in morning trading Friday to $22.84.
Riding the Razr
Motorola had enjoyed a strong ride in 2005 — largely on the back of the Razr and promises of next-generation Razr-like products. Shares were up more than 30 percent over the course of the year as the mobile phone market remained strong in the U.S. and in emerging countries.
Despite investors' unenthused reactions, the earnings show Motorola is rebounding, with the Razr mainly to thank, independent telecom analyst Jeff Kagan told the E-Commerce Times.
"Motorola has been through the ups and downs of the market during the last many years, but they look like they are back on track for now," Kagan said. "The Razr is a hit, and has given Motorola a new lease on life."
Motorola is no doubt mindful of an earlier success in the product market. Its Star Tac was a hit in the 1990s, but fell from grace after Motorola didn't move quickly enough to make the switch to all-digital technology.
"The big question is what's next for Motorola to ensure the climb continues? Is it more with Razr or something new? They have too much of their success dependent on a single product line," noted Kagan.
Looking Ahead
Motorola expects to sell more Razr phones in 2006 than it did last year, as offspring models such as the Pebl, Slvr and the new Q model debut in the U.S. These models hit some markets late in 2005.
Like other handset makers, Motorola is counting on strong sales of high-end phones like the Razr in established markets in order to offset lower-margin sales of inexpensive phones, which are being gobbled up in fast-growing emerging economies including India, China and some countries in South America.
Some forecasts had pegged 2005 as a weak year for the mobile industry. However, key product releases and the stepped-up rollout of new wireless services such as Verizon's and Apple's mobile video, as well as growing interest in hand-held gaming devices with wireless connectivity, helped turn those outlooks around.
Mobile research firm iSuppli recently predicted growth would slow and prices would continue to fall during 2006, with 2005 representing a peak that will not be reached again until 2009.
ISuppli said revenue from mobile phones will decline to $109.7 billion in 2006, down 4.7 percent from $115.1 billion in 2005, the industry's best year ever.
Lower selling prices will depress revenue totals even as phones continue to sell at a fast pace, according to iSuppli principal analyst Scott Smyser.
"Low end, ultra-low-cost mobile phones are being pushed into emerging markets in large numbers," he observed. "Meanwhile, at the high end, wireless communications service providers are continuing to demand lower-cost 3G mobile phones in order to spur greater consumer adoption of 3G services."
Once consumers are hooked into 3G services such as wireless data, music and video, the selling prices will stabilize, Smyser added.