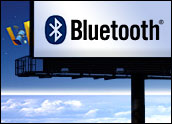 Looking to accelerate the development of mobile technology devices in ways seen previously mainly in spy movies, Motorola said today it would work with sunglass maker Oakley on technology to make wearable communications devices.
Motorola said it had formed a joint venture with Oakley, which makes a range of products from watches to clothing but is best known for its sunglasses, aimed at creating wearable devices that work on the Bluetooth close-proximity wireless protocol. No financial terms were disclosed.
Hands-Free Operation
The companies expect to have details on their advances and preliminary designs ready to be unveiled by mid-year, with the goal being "evolutionary and innovative products for consumers who want hands-free, untethered operation of their electronic devices," according to a jointly issued statement.
The venture echoes an earlier agreement between Motorola and snowboard and accessory maker Burton, unveiled recently at the Consumer Electronics Show, to build jackets and headgear that use Bluetooth to enable a skier to listen to music or make phone calls without using their hands.
Bruce Hawver, companion products group vice president at Motorola, said the new joint venture "allows us to reach out to new and different types of users of the technology — enabling seamlessly mobile wireless communications anywhere and everywhere consumers want to be."
Oakley said the venture would feed into its newly created electronics division. "Oakley's engineering team now has an expanded technology arsenal to develop new and innovative electronic products," Vice President of Business Development Cos Lykos said.
New Frontiers
The notion of wearable communications devices isn't entirely new to the consumer market. Satellite radio firm XM recently unveiled a plan to work with Sony on a portable reception device small enough to be worn by listeners. Also, clothing retailer Gap recently unveiled a line of sweatshirts with built-in radios.
However, Motorola seems to have far higher ambitions, hoping to equip wearable devices with the kind of technology that would allow a user to link his or her cell phone, PDA and mobile computer to each other without any additional devices.
Bluetooth allows any sort of electronic equipment, such as computers, cell phones or headphones, to connect to each other without wires, cables or direct action from a user.
The longer-range vision is one of completely ubiquitous and almost passive computing and connectivity, where a user not only never has to be out of touch but also never has to turn on a device or even carry one in order to communicate through voice or e-mail or even to access information from a far-away database. That, in turn, could help open the spigot on the delivery of location services, content and commerce to mobile devices.
Acting Cool
In the short-term, analysts said, Motorola might be trying to jazz up its image as it takes on the brutally competitive handset marketplace.
Motorola, which is undergoing transition with the departure of its longtime CEO, is moving to regain market share lost to rivals in recent years. While it was the top seller of handsets as recently as 1999, it fell to third place worldwide in the third quarter of 2004 as Samsung and Nokia moved ahead of it, Gartner analyst Ben Wood said.
Motorola has addressed some of its competitive weaknesses, bringing out a better range of products of late, but would benefit from an image upgrade that could put it back in favor with younger buyers, who are a key group because they are the most likely consumer group to grab higher-priced, cutting-edge technology, he added.