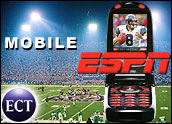 Six months after pulling the plug on efforts to become a mobile virtual network operator (MVNO), ESPN Mobile has agreed to make its video, game scores and other content available on the Verizon Wireless network.
The two companies said Mobile ESPN content would be made available to V Cast phones through an exclusive licensing pact. Specific financial terms of the multiyear agreement were not disclosed.
Verizon Wireless Chief Marketing Officer Mike Lanman said the service would offer subscribers a range of choices, from text-based score updates to "a complete multimedia experience."
"This is truly about providing customers with sports news and entertainment in the way they want it," he said.
"For ESPN, this is the right strategy and the right carrier relationship to grow our business while serving millions of sports fans with the information they want, when and how they want it," said Salil Mehta, executive vice president for ESPN Enterprises.
Part of the Package
ESPN will be included starting immediately in existing V Cast subscription packages, which are offered at US$15 per month or $3 per day, Verizon Wireless said. V Cast subscribers will also gain access to exclusive paid content on the ESPN Web site, including Insider columnists and features.
Subscribers will also be able to participate in ESPN fantasy leagues and download and view archived content, including original ESPN content such as "SportsCenter," "Cold Pizza," "Outside the Lines" and "Pardon the Interruption."
Verizon Wireless also said it would include an ESPN Mobile TV channel in its upcoming V Cast TV service. Set to launch later this year, V Cast TV will offer a variety of streaming video channels on a network being built out by MediaFLO, which Qualcomm spun off last year to develop as a mobile video platform.
ESPN Mobile announced in September that it would cease operations as an MVNO as of Dec. 31, 2006. That venture lasted less than a year, during which time ESPN tried to create a service available through multiple carriers.
ESPN parent company Disney had been banking on using the MVNO approachto extend its various brands to the wireless world, offering the sport-focused phone through ESPN and kid- and family-friendly offerings under the Disney moniker.
While the mobile content was high-quality, ESPN may have overestimated the demand for a relatively high-priced sports package as well as consumers' willingness to abandon their existing carriers and plans to adopt the ESPN programming.
By most counts, ESPN Mobile had fewer than 30,000 subscribers when it was shut down.
Bigger Audience
In Verizon Wireless, ESPN is gaining a huge potential audience. The carrier has some 59 million subscribers and says that a third of all its customers have phones that can receive V Cast content.
ESPN found out the hard way that the MVNO approach has its limitations, Telecom analyst Jeff Kagan told the E-Commerce Times.
"If a company already has a customer base then an MVNO wireless arrangement sounds like a good offer, a good approach," Kagan said.
Apple might launch its iPhone as an MVNO, but the device maker instead announced an exclusive partnership with Cingular/AT&T, further evidence that the mobile approach may be seen as a less-effective approach to a favorable partnership.
While a few MVNO brands have succeeded — Virgin Mobile, which is hugely popular in the UK, is one example — the market has not found the traction many predicted.
That may be because as recently as last year, only 1 percent of mobile phone users said they would choose their providers based on entertainment choices rather than factors such as local coverage areas, JupiterResearch analyst Julie Ask said.
Still, mobile video is beginning to become more important in that equation, with options becoming more affordable and video quality improving, Kagan claimed.
"Every day we get closer to the day when the mobile phone becomes the true third screen for both work and entertainment," he added.