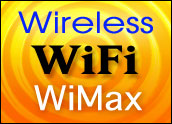 Consumer and business demand for wireless networks will drive strong growth in the wireless local area network (WLAN) semiconductor segment for the next four years, according to a new report from research firm IDC.
In addition to demand for existing technologies, IDC said it sees new technologies in both consumer and business mobile devices creating additional opportunities for wireless chip makers.
The market will grow to 487 million units per year by 2009, IDC said, generating revenue of US$3 billion, a 21 percent annual growth rate from the $1.2 billion in sales in 2004.
Vendor Frenzy
The growth will come despite "intense pricing pressure" from competition and advancements in integration, Celeste Crystal, senior research analyst at IDC, said. She said the challenge that vendors will face will be in setting themselves apart on something other than price in order to build customer loyalty.
"Low power consumption as a result of single-chip designs, increasingly robust quality of service mechanisms, and the role of WLAN in consumer VoIP all provide opportunities to build loyalty," Crystal added.
IDC said its survey of the wireless chip marketplace shows changes among the leaders, with Broadcom coming in first with 44 percent year-over-year growth, Atheros jumping to second overall as its sales nearly doubled from the year before and Intel holding onto third place with 57 percent growth. Conexant/Globespan was in fourth place, while Texas Instruments saw market share erode and fell to fifth place in the rankings.
IDC said the wireless chip market includes both server-side chips in routers and other devices and client-side chips found in notebook computers and a range of other mobile computers.
Demand on both sides will grow as consumers continue to adopt wireless 802.11 networks and as newer technologies enable wireless devices to be used at an extended range from servers and routers. IDC also expects growth in technology enabling "MIMO," or multiple input, multiple output, which allows the use of more than one antenna to send and receive two or more unique data streams over the same channel at the same time.
Wireless Voice Seen Booming
More consumer devices will also rely on wireless, IDC said, including gaming consoles and set-top boxes that enable digital televisions to be brought into home networks.
One of the emerging technologies IDC expects will drive chip use is wireless VoIP connections, which will require both routers and mobile handsets that are wireless-compatible.
Lou Holder, executive vice president of product development at VoIP provider Vonage, told the E-Commerce Times that his firm will roll out WiFi enabled handsets by the end of the year.
Holder said Vonage sees rising demand for both home- and office-based networks using VoIP over WiFi and for devices that will enable VoIP calling over public WiFi access points.
"Small businesses and residential customers love the service and the idea of being able to add portability and wireless to it is a perfect solution," Holder said. "Wireless networks are in a lot of small and home offices, and the numbers are continuing to grow."