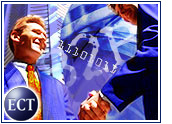 Microsoft Corp. announced Monday the release of two new products intended to help e-commerce suppliers participate in business-to-business (B2B) e-marketplaces.
Both new offerings, bCentral Commerce Manager and Supplier Accelerator, are part of Microsoft's E-Business Acceleration program.
"In today's new economy environment businesses expect their vendors and partners to be fully e-commerce-enabled while consumers expect 24×7 access to businesses via the Internet, making it essential for small businesses to have B2B and B2C marketplace access to be successful," said Satya Nadella, vice president of Microsoft bCentral.
To Market, To Market
In the past, it has sometimes been both difficult and expensive for e-businesses to connect with multiple e-marketplaces due to differences in underlying technology. The new Microsoft products provide smaller businesses with connectivity to the e-marketplaces from one integrated system.
"To date, the ability to sell through these marketplaces has been limited for small organizations," Nadella said.
An e-marketplace framework generally consists of three major components: a builder in charge of front-end interfaces; a platform that handles security, connectivity and management; and a business services framework that provides procurement, order management, financial services, catalogs and auctions.
Microsoft's partners in the e-business marketplace initiative include Andersen Consulting, Ariba, Cap Gemini Ernst & Young, Clarus, Commerce One, Compaq, Dell, KPMG and VerticalNet.
New Connections
The new products are part of an overall Microsoft initiative to drive the growth of e-marketplace adoption that includes collaboration with major e-market makers on XML standards, global marketing and sales programs. Both offerings are meant to streamline the process of connecting to multiple e-marketplaces.
Commerce Manager is designed to help businesses manage catalogs, orders and payment processing. The product enables small companies to move their merchandise and services onto multiple marketplaces at the same time.
Microsoft Supplier Accelerator gives companies the ability to manage catalog publishing and order processing across e-marketplaces.
"By reducing the development effort and expense of connecting any size supplier to any electronic marketplace, we are enabling e-businesses to generate new revenues and reach new markets with their products," said Chris Atkinson, vice president of the .NET Enterprise Solutions Group at Microsoft.
Supplier Accelerator has been in use by Microsoft partners since the kickoff of the E-Business Acceleration initiative in September. Both products are built on a common set of Microsoft .NET Enterprise Servers.
B2B Growth Anticipated
While predictions by industry analysts differ considerably, there is a general agreement that B2B e-commerce will grow tremendously in the next several years.
The Gartner Group, for example, has said it anticipates the sale of B2B e-commerce goods and services to reach $7.3 trillion (US$) globally in 2004. That figure far surpasses IDC's more conservative prediction of $2.7 trillion in B2B e-commerce spending over the same period.