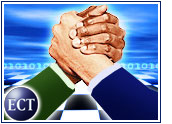 Microsoft has announced it is putting the finishing touches on its own entry into the music download business, setting up a competitive showdown with a host of already established players in the marketplace.
The software giant has not set a specific date for the launch of its service, which will be run through MSN, and did not disclose many other details about the planned offering. However, it did indicate it will bring the music service online in the first half of 2004.
The company already is searching for a senior-level marketing executive to oversee Microsoft Music Download Service, a job that will include finalizing the business plan for the service.
Fast Break?
There has been widespread speculation that Microsoft would enter the download fray, and most observers believe the company would be a formidable player out of the gate, despite the considerable head starts enjoyed by rivals.
Apple, for instance, claims to have sold several million songs to Mac and Windows users through its iTunes Music Store. That early success prompted Apple CEO Steve Jobs to quip that Apple is on its way to becoming the "Microsoft of music stores."
Napster also came back online in recent weeks as a pay-to-listen service, joining a field that is certain to get more crowded, with published reports indicating Wal-Mart is among those looking for a piece of the action. MusicMatch, which has a sizeable audience as a result of its long-running Web jukebox service, and MusicNet, which has an AOL tie-in, are also considered to be valid competitors by many analysts.
However, although Apple's first-to-market advantage is substantial, Microsoft could offer record companies access to millions more users, including a near-captive audience at its MSN site, as well as instant compatibility with its widely used media player software. Momentum gained from these advantages could be enough to overtake current leaders.
900-Pound Gorilla
Forrester Research analyst Josh Bernoff told the E-Commerce Times that Apple's success so far has been based largely on the success of its iPod digital music player, which gave iTunes an instant head start. Apple also has loaded its iTunes site with popular features — but in the end, the sites that win will be those that offer the best selection of music at the best price.
"The download site that strikes the best deals with the labels in terms of pricing and availability will have a big advantage," Bernoff confirmed.
Microsoft's timing may be good. Music companies finally seem to have realized the potential of the online music market, thanks to iTunes and the revived Napster, which have lent credence to predictions that downloads eventually will replace CDs. At the same time, lawsuits are having a chilling effect on free download use, sending more users to paid sites. "It's not just speculation anymore," Bernoff said.