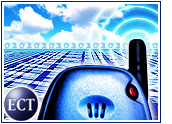 In an effort to extend the reach of its operating system from desktop computers to more mobile devices, Microsoft has announced it will work with Motorola to sell a Windows-loaded cell phone geared toward on-the-go workers.
The software giant said its alliance with the world's second largest maker of mobile phone handsets will help workers access and use business information from their desktops while on the road.
Microsoft vice president Pieter Knook called the agreement "a tremendous milestone" for Windows Mobile, which has been more or less idling at the starting gate for more than a year as the company searched for the right market niche.
Thinking Big
The companies' first joint product, the Motorola MPx200, will run Windows Mobile. It will be sold in Europe and Hong Kong through Orange and other distributors starting next month, and in the United States by year's end through AT&T Wireless. Microsoft said the phone will boost productivity for knowledge workers and will help mobile phone carriers generate new revenue streams.
The companies said they already are at work on additional products, including smartphones and Pocket PCs. Motorola and Microsoft also will co-market the new family of products and strive to bring more wireless developers into the loop.
The two companies underscored the practical uses of the new device, including instant communications and Web browsing, as well as its leisure uses, such as gaming and playing video and audio clips. Users also will be able to synch e-mail, calendar and contacts by using Microsoft Outlook on both desktop computers and mobile phones. The phone will feature expandable memory card capabilities of up to 1 GB.
Major Boost
Gartner analyst Ben Wood told the E-Commerce Times that Motorola lends instant credibility to Microsoft's wireless push. Although other device makers' products have used the Windows Mobile platform, such as a Pocket PC from Sprint, most have gained little traction.
"Anything you do with the second largest phone maker is going to give you presence in the marketplace," Wood said. "It's a sign that they've gotten the platform to a point where a company is willing to commit to being aligned with it."
Wood also noted that the deal is nonexclusive, meaning buyers of Windows phones still will have plenty of choices, even from AT&T and Motorola. "If they can use this to build momentum and get more carriers and phone makers on board, then they may have the start of something," he said.
Branching Out
For Microsoft, the initiative is an important part of an overall push to leverage Windows' desktop dominance into other areas.
In addition to the Motorola pact, which targets enterprise workers, Microsoft has made it clear it wants to be part of the next generation of the digital media landscape. Recent deals have put the company's software in cable television set-top boxes.
Also, in a move to target enterprise workers who do not travel, Microsoft has rolled out the latest version of its online meeting software. Microsoft Office Live Meeting, which uses technology bought as part of the PlaceWare acquisition, is the first fully hosted service to be unveiled from the upcoming Microsoft Office suite.