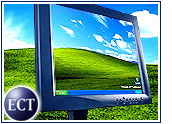 Microsoft said it will release a long-awaited service pack containing a host of security upgrades for its Windows XP operating system next month.
At its annual partner conference in Toronto, Microsoft announced that engineering work is wrapping up and that XP Service Pack 2, which has been in beta testing since late last year, will be released to manufacturing in early August.
The software giant also used the conference to unveil a number of other initiatives, most of them focused on what is being billed as "integrated innovation," which seeks to leverage the work of third-party application developers and vendors more effectively.
At Your Service Pack
The XP service pack has been the subject of much discussion as a slew of new security flaws have been discovered in the current Windows XP software and related Microsoft programs, such as Internet Explorer. Microsoft announced earlier this year that it was finishing up development of the next service pack, but did not put a firm date on its release until today.
Microsoft has said the upgrade would include tools to make Web browsing and e-mail more safe, with features aimed at stifling malicious attacks and cutting down on unwanted contents and behind-the-scenes downloads, such as spyware.
Will Poole, senior vice president of the Windows Client Business at Microsoft, said the software company plans to distribute the service pack mainly through the Automatic Update feature in Windows XP.
He said existing Windows XP customers can ensure they get the upgrade as soon as possible by enabling automatic updates, a feature in XP that downloads updates when Microsoft posts them. Microsoft also plans to make free CDs of the service pack available for XP users who do not have access to high-speed Internet connections, Poole said.
Essential Ingredients
Gartner analyst Michael Silver said the SP2 is more than a typical service pack and is aimed at significantly boosting the security of the platform.
"It's really a critical upgrade," Silver told the E-Commerce Times. "For consumers in particular, it should enhance security by eliminating a number of buffer overrun vulnerabilities."
The service pack may pose more complications for enterprises, however, as some have reported problems with applications from using earlier service packs and using automatic update. "Enterprises will have to test thoroughly along the way," Silver said.
In fact, Microsoft has warned network administrators to test their applications for compatibility before installing the update.
Ken Dunham, iDefense director of malicious code intelligence, told the E- Commerce Times that compatibility issues have likely been slowing the release of the service pack, which has been expected for some time.
"My guess is they're attempting to make it as easy-to-deploy as possible," Dunham said. "But we have to remember that security and usability are on opposite ends of the scale. If security goes up, usability might go down."
For example, home users might find the new XP settings and features clash with third-party firewalls, and users of virtual private networks might have to configure their settings. "It's probably going to be an issue for home users and help desks," Dunham said. "That's the price we pay for security."
Dunham said the XP upgrade "is definitely stepping in the right direction," and will at least reduce the exposure of XP machines to more run-of-the-mill attacks, such as executable code downloaded from the Web or transported via e-mail.
Partnership Push
Also at the conference, Microsoft said it would set aside 35 percent of its global marketing budget for use through third-party partners and will boost its partnership program investment to US$1.7 billion for the current fiscal year, up from $1.5 billion last year.
Microsoft revamped its partnership program a year ago in an attempt to make it more worthwhile for vendors to design applications that are compatible with Microsoft's products.
Allison Watson, vice president of Microsoft's Worldwide Partner Sales and Marketing Group, said customers can look forward to a "full pipeline of platform innovations" that have resulted from the partnership push.