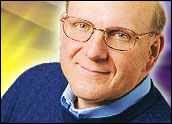 Hoping to stay competitive and avoid more drastic measures in the future, Microsoft plans to reduce costs by US$1 billion this fiscal year by trimming employee benefits and cutting other expenses.
The savings will come from a more coordinated marketing effort among the company's various divisions and other measures, but will not require any salary cuts or layoffs, Microsoft CEO Steve Ballmer told the company's 57,000 employees in an e-mail. Microsoft's fiscal year began on July 1st.
Ballmer said the moves are necessary because expenses have grown more quickly than revenue at the software giant over the past three years. "This is obviously not a trend we can continue," he wrote.
Seeking to calm worker fears and any uneasiness over benefits changes — for instance, employees will now pay for prescription drugs if they opt not to use generic brands when available — Ballmer said salary raises would keep pace with inflation and that more and larger merit raises would be handed out to star employees.
"Other companies have been severe in tightening costs in the last few years — layoffs, major benefit reductions, etc. We have not done these things and want to be prudent now so we avoid severe measures later," Ballmer wrote.
Battening the Hatches
Analysts said Microsoft is likely preparing for a stretch of much slower growth than it had been used to, largely because of increased competition from Linux and others. Without fast-growing revenue, Microsoft will need to pay more attention to its margins to remain profitable.
In fact, Ballmer suggested Microsoft needed to redouble efforts to avoid the pitfalls that many mature companies fall into. "Nothing solves 'big company' ills quite like a strong focus on accountability for results with customers and shareholders," he wrote.
Last year, Microsoft ended its longstanding employee stock-option plan, instead offering straight grants of stock to workers, as a way of reducing the amount of expenses the stock grants placed on the company's books.
Focus Factor
Gartner analyst David Smith told the E-Commerce Times that Microsoft has been able to squeeze growth on the PC side, but that run is likely coming to an end and the company will have to pay more attention to customers as well as shareholders to remain dominant.
"Microsoft is facing a volatile period" because of Linux competition and some resistance among customers to new licensing terms and conditions, Smith said. Still, the company's profit margins in many product areas remain robust, which suggests the cost cuts could be aimed at positioning Microsoft to be more competitive on cost as it heads into the release of its Longhorn operating system in coming years, he added.
Ballmer said plenty of growth opportunities remain, especially in emerging markets, with the number of PC users growing from 600 million to 1 billion within the next six years. Capturing that growth will require more segmentation of Microsoft products for specific user groups.
Still Exciting
Industry analyst Rob Enderle said Ballmer's memo was meant to energize employees and focus them on the many initiatives on the company's plate, from the much-anticipated Longhorn, to Web and computer search innovations and better security.
"The message is that Microsoft can still turn the tech world on its ear," Enderle told the E-Commerce Times. "But it needs to avoid becoming complacent as a company, and that means employees need to do the same."
Integration is another key thrust of the company, with teams of engineers from MSN, Office and Windows groups working to develop more tightly woven together tools for businesses and consumers.
Stock, Pile
Ballmer also said the company would treat its $56 billion cash stockpile as "shareholders' money," indicating it would either be invested in new opportunities or returned to investors.
That comment gave rise to speculation of a possible larger dividend to shareholders, something that some investors have long called for, or a stock buyback, which would help investors by raising the per-share price. Microsoft started paying modest dividends to shareholders in March of 2003.
A Microsoft spokesperson told the E-Commerce Times that the company would unveil more details of its plans for its cash in coming weeks.