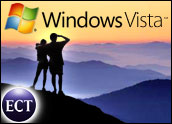 Backing off earlier suggestions that antitrust concerns in the European Union could delay the launch of its next-generation Windows platform, Microsoft said Friday it would launch Windows Vista in Europe on schedule.
Microsoft CEO Steve Ballmer personally told EU Competition Commissioner Neelie Kroes late Thursday that Microsoft planned to launch the software worldwide simultaneously.
On Friday, the software giant issued a brief statement saying it was "on track" to release Vista on schedule and had held "constructive dialogue" with regulators. The current schedule calls for corporate customers to start receiving the software in November of this year and for a consumer version to be available in retail stores and from PC makers early in 2007.
A worldwide launch would include at least two markets — Europe and South Korea — where regulators have already expressed concern that the new platform could raise additional antitrust questions.
In both jurisdictions, local computer security software makers have expressed concerns about the built-in security features of Vista, which is also expected to have tightly integrated search functionality and media playing and storage capabilities.
Microsoft said in the statement that it worked with regulators during the development of Vista and "agreed to make a number of changes" requested by the European Commission (EC). Microsoft General Counsel Brad Smith also confirmed that Microsoft made changes aimed at addressing concerns raised by regulators in Korea.
No 'Green Light'
In its own statement, the EC said Microsoft knew it was proceeding at its own risk by releasing Vista.
"The Commission has not given a 'green light' to Microsoft to deliver Vista because, as the Commission has consistently stated, Microsoft must shoulder its own responsibilities to ensure that Vista is fully compliant with EC Treaty competition rules and in particular with the principles laid down in the March 2004 Commission antitrust decision concerning Microsoft," the EC said.
The commission said it would "closely monitor the effects of Vista in the market and, in particular, examine any complaints concerning Vista on their own merits."
Smith, meanwhile, said Microsoft did not ask for a "green light," but said it appreciated what he called "constructive dialogue" with and "guidance" from the commission.
"We have made changes to ensure that we're in compliance with our competition law obligations, and we are moving forward to make Windows Vista available on a worldwide basis," he added.
Back on Track?
Smith said changes to Vista include alterations to the search engine, to file formats and some security features, but did not provide specific details.
Analysts have been split on whether Microsoft would meet the current schedule for releasing Vista, with the antitrust concerns seen as one major factor that could lead to additional delays.
It is important that Microsoft have a release schedule in place, however, heading into the fourth quarter. Many PCs are being sold now as Vista-ready, with some PC makers offering customers who buy Windows-based machines now the right to upgrade to Vista as soon as it is released.
Meanwhile, Apple has been eyeing market share gains in the desktop and notebook spaces as it attempts to capitalize on Microsoft's slipping release schedule, which had originally called for Vista to be available before the end of this year.
The EU has provided Microsoft with some cover should additional delays arise for whatever reason, with Microsoft able to hang additional schedule slippage on regulatory concerns, Gartner analyst David Mitchell Smith said.
Most large-scale Vista deployments and upgrades will take a year to 18 months to implement anyway, Smith noted, giving enterprises plenty of time to plan their migrations and deal with any additional delays.
For consumers, Microsoft has begun to offer coupons for free Vista upgrades to those who buy computers during the holiday season, an enticement meant to help PC makers incite buying interest at a key time of year. Some consumers may delay purchases until early 2007, however, so they can get the software pre-loaded.