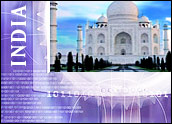 In an effort to make its flagship software affordable enough to ward off open-source competitors and squelch piracy in a key overseas market, Microsoft announced plans to release a scaled-down and low-price version of Windows XP in India.
Microsoft said it would make Windows XP Starter Edition available in India starting early next year. The software is expected to sell for the equivalent of around US$35, far below the full-priced version of XP, which wholesales to PC makers in the U.S. for closer to $70.
The India software release, billed as a pilot program targeting first-time and beginning computer users initially, comes on the heels of a customized version for the Russian market. Microsoft has also confirmed it is working on similar stripped-down versions for Thailand, Indonesia and Malaysia.
The software giant has multiple motivations for the moves. Developing markets have been a strong source of growth for open-source software and also a hotbed of software piracy, with counterfeit versions of Windows and other programs widely available on the Internet and on the black market. Developing markets also offer the prospect of stronger growth than more mature markets, such as the U.S. and Western Europe.
Windows Light
As the name implies, the Starter Edition won't contain all the bells and whistles built into Windows XP. For instance, the multiple language function will be removed in favor of a Hindi-only interface that Microsoft said will be expanded, if the pilot is successful, to account for the myriad other languages spoken in India.
The platform also will accommodate a limited number of programs running at once and will accommodate only a single user login at a time. Features such as home networking setup will be missing as well.
Plenty of Motivation
Microsoft has taken a number of steps aimed at combating the growth of open-source software, such as offering to open up limited portions of its source code to certain important customers — such as foreign governments. Many computer makers have turned to open source or alternative software as a way to reduce the base price of their PCs in order to entice more consumers to buy.
However, Jupiter Research analyst Joe Wilcox said the moves are as much about piracy as they are about fending off Linux. The countries that have been targeted for Starter Edition share two things in common: All have the potential for enormous growth in computer use in coming years and all are already among the nations with the highest rates of software piracy.
"People are paying for software already but they're not buying legitimate copies because they're too expensive," Wilcox said. "Credit Microsoft for recognizing the need to have users exposed to its programs early on, before the market really starts to mature, as well."
Possible Problems
Gartner analyst Dion Wiggins noted that most PC vendors sell computers loaded with Linux to keep costs low, only to then be loaded with pirated Microsoft software. While Microsoft has the right idea with the starter version, it might have made some critical missteps in designing the software.
For instance, the platform will only allow three programs to run at once, far fewer than many Windows users often find themselves juggling at any one time. Wiggins also said the security argument might not resonate because updates will have to be downloaded, and many Indian PC users have slow and unreliable Internet connections.
"Microsoft is going to fight for this market, both by cutting down on piracy any way it can and by attracting users to buy legitimate copies," Wiggins said. But while it hopes to use security and access to updates to lure users to pay up, Microsoft may actually push some users to black-market copies by limiting some features of Windows.