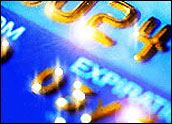 On the heels of eBay's US$1.5 billion PayPal acquisition, Microsoft is making its own play to compete in the online payment space.
The Redmond, Washington-based software giant announced a partnership Tuesday with security software maker Arcot Systems. The deal extends Microsoft's Passport online identification system to include authorization of credit card payments.
At its core, the Passport authentication service allows users to visit secure Web sites without re-entering their username and password at each location.
The new alliance between Microsoft and Arcot will allow banks to authenticate Visa and MasterCard credit cards with a shopper's Passport username and password.
Selling Security
Analysts said Microsoft has a running start in online payment services with its strong brand and broad customer base. But while research firm Gartner reported that Passport has about 14 million registered users, analysts said the Passport network is limited, and users have questioned the technology's security.
That is where Arcot comes in. The company is best known for building online payment systems for merchants that accept Visa and MasterCard, as well as for banks that issue such credit cards. For example, Arcot powers Visa's Verified by Visa initiative and is working with MasterCard to develop a similar program.
Building Brands
But even with Arcot on its side, experts said they do not believe Passport poses a threat to leading authentication services. They pointed to eBay's disappointing attempt to build its own payment service brand with its Billpoint system. The online auction giant finally gave up and acquired industry leader PayPal.
"There are companies that have built their brands on authorizing credit card payments," Forrester analyst Laura Koetzle told the E-Commerce Times.
"I am having trouble buying Microsoft's play as an infomediary here. This is very much the domain of the Visas and MasterCards — and now PayPal."
Partner Power
Microsoft's ability to partner with companies to deliver products and services has led to much success for the software giant. But experts said one partnership is not enough to transform Passport into a viable competitor against PayPal or other companies in the online payment space.
What is lacking, according to Koetzle, is a bank brand.
"If they hooked up with Bank of America and used its brand, customers would probably be more likely to use it," she said. "As it is, I'm not sure Microsoft has proved a compelling benefit for consumers to use Passport [for credit card authentication]."