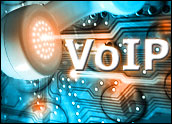 Microsoft and long-distance company MCI will test a co-branded Voice over Internet Protocol (VoIP) calling service meant to help the two companies have a hand in the massive shift of voice-based calls from traditional land lines to the Internet.
MCI Web Calling for Windows Live Call will be integrated into Windows Live Messenger — the soon-to-launch upgrade of MSN Messenger — and use technology from both companies, including Microsoft software and MCI's existing VoIP network. The service will enable calls from personal computers to traditional phones.
The partnership helps Microsoft stay competitive amid a flurry of activity by Internet companies in the VoIP arena, from the eBay purchase of Skype to Yahoo's recently launched upgrade of its PC-based calling plan and AOL's ambitious AIM Triton, which seeks to combine various communications tools into a single bundle.
With some 185 million users, MSN Messenger has a significant base of potential users and a head start on rivals such as Google, whose Google Talk product is basically assembling an audience from scratch.
Like other upgrades to instant messaging and voice chat, the MCI partnership is important because it allows users to go beyond PC-to-PC chatting and calling to use their computers to reach both landline and mobile phones around the world.
Blake Irving, corporate vice president of the MSN Communication Services and Member Platform group at Microsoft, said the service would "provide the bridge between PCs and phones with high-quality voice services that enable people to communicate more easily, conveniently and inexpensively."
Pay to Call
The first subscriptions to the service will be offered in the U.S., with additional tests planned in France, Germany, Spain and the UK in coming weeks. Phone call rates will be as low as 2 cents per minute to the U.S., Canada and western Europe during the test period. The companies said final pricing will be worked out closer to launch date.
Like Yahoo's calling plan announced last week, users will pre-buy their calling time in increments of US$5, $10 or $25.
Microsoft has had voice chat in the past, but not a service that lets PC users call regular phones. The software giant has also made it known through acquisitions and other moves that it hopes to fully integrate VoIP into its family of desktop productivity software, making it possible for calls to be placed from within various applications.
Many analysts saw the move as a defensive one, allowing Microsoft to quickly offer a PC-to-phone service — just days after Yahoo launched its and as eBay prepares to upgrade Skype after its acquisition of that popular startup.
Financial terms of the deal were not disclosed, but analysts speculated that both companies may see similar gains, with Microsoft shoring up its messenger audience base and MCI getting high visibility on millions of PCs, something it would not have otherwise.
Big Picture
The partnership may also be a way for the two companies to gain a foothold in the business VoIP market. Though that segment is dominated by major technology providers such as Cisco and Nortel, MCI has a significant business customer base and Microsoft's products — including its messenger — are used by millions of so-called knowledge workers.
Telecom analyst Jeff Kagan told the E-Commerce Times the partnership reflects the uncertainty about how the VoIP market will shape up long-term and the need for major telecom and tech players to have exposure to different segments of the market.
"VoIP has matured quite a bit, but it's still very much in its infancy," he said. "What happens with the market in terms of winners and losers is years from being determined. But smart moves made now will pay dividends in the future."