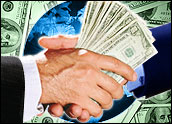 With the dust still settling from its landmark deal to work with Microsoft on new products and support, Novell on Tuesday gave the first look into the financial details of the agreement, saying it would receive as much as US$400 million in direct payments and marketing support from its onetime bitter rival.
In a filing with the Securities and Exchange Commission, Novell revealed it would receive a one-time, up-front licensing payment of $240 million. That payment essentially gives Microsoft the right to offer Novell's Suse Linux customers Microsoft support and service.
Microsoft will make an additional $108 million payment to Novell up front as part of a complex agreement that limits both companies' legal liability as it relates to patent protections. Novell will, in turn, pay back to Microsoft a minimum of $40 million over the next five years, with the amount depending on the revenue generated by licensing the Open Platform Solutions and Open Enterprise Server to Novell customers.
In addition, Microsoft has pledged to invest $34 million to build a sales force to introduce the co-branded offering to enterprises and another $60 million on marketing to support the push.
The filing also revealed that the pact will run until January 2012, and that Microsoft has agreed not to enter into any similar deals to promote Windows and Linux virtualization technologies with other Linux vendors for at least the next three years.
Significant and Small
Novell CEO Ronald W. Hovsepian said "the financial commitments Microsoft is making as part of this agreement are significant.
"This is good for Novell, but it's also good for the community because it will make Linux and open source much more prevalent and drive demand for Linux-based solutions," he added.
By contrast, for Microsoft, the payouts are fairly minor, given its multi-billion-dollar stockpile of cash, which it has sought to whittle down by offering dividends to shareholders and buying back its own shares on the stock market.
It's likely Microsoft will earn back some of the payments as well. For instance, Suse Linux Enterprise subscription certificates can be re-sold by Microsoft, enabling it to directly recoup some of those funds. Microsoft also believes the partnership will generate additional sales for a variety of its software products as well.
Some of the upfront payments, a boost to Novell's bottom-line in the short-term, will be returned to the software giant over time as Novell makes royalty payments.
As Microsoft convinces more enterprises to use the virtualization technology that enables Linux to be run alongside Windows on the same servers, it could generate revenue from both software licenses and support.
Shifting Landscape
The payments seem out of proportion to what Microsoft is getting, according to Goldman Sachs analyst Rick Sherlund. Microsoft may be willing to subsidize Suse to keep it a valid competitor to Red Hat and others, he speculated in a research note.
"The financial arrangement appears too one sided to simply reflect joint development activities and royalties to Microsoft for the use of its intellectual property in Linux," Sherlund wrote.
Meanwhile, it could be some time before the impact of recent changes in the Linux market can be known. Taken with Oracle's recent announcement that it would support Linux deployments, the Microsoft-Novell deal marks a major shift in the tech landscape, Jefferies analyst Katherine Egbert told the E-Commerce Times.
That major vendors would move to support Linux indicates its arrival as a mainstream technology, one that the biggest enterprise software companies feel they need in their portfolios.
"Linux has grown up," Egbert said. "Now the industry has to deal with its own growing pains and changes."
Meanwhile, Novell has moved to answer questions from the open source community about how the Microsoft deal would impact its existing customers and those who run its products under the GNU general public license, posting a lengthy question-and-answer document on how open source will interact with Microsoft's proprietary products.