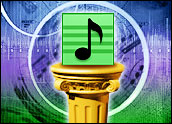 After months of speculation and anticipation, Microsoft launched a test version Thursday of the music download site it hopes will unseat rival Apple's iTunes Music Store as the dominant provider of digital songs.
The beta site of MSN Music features around a half-million songs and offers individual downloads for 99 cents a piece, the same price that Apple charges. The catalog is expected to grow to 1 million songs — comparable to the iTunes store — around the time the site formally launches next month.
While the debut inevitably conjures up images of Apple and Microsoft going head-to-head for the hearts and wallets of consumers, Microsoft has made it clear that music downloads are only a part of a larger vision that features Microsoft's products as the hub of a PC-to-entertainment revolution.
Some analysts argue that the $300 million a year market for downloads is not large enough for Microsoft to wage an all-out war — yet.
They also note that the MSN Music store debuted at the same time that a new version of Windows Media Player and before the first song was even downloaded, Chairman Bill Gates was already being quoted as saying that Microsoft is well positioned to be an early leader in enabling video downloads.
Crowded House
Not that it's a two-horse race. While Apple is the clear leader thus far, analysts say the market is quickly being fragmented among players such as Roxio's Napster, MusicMatch and Wal-Mart's download site. Yahoo is said to be readying its own service, as is MTV.
Forrester research analyst Josh Bernoff said that selling music is only one part of Microsoft's mission and that, in the big picture, the site is largely a means to another end.
The real thrust is to expose consumers to the Media Player software and convince device makers and music studios to favor that platform as a distribution medium. Labels, meanwhile, will continue to push for compatibility across all platforms and brands.
"Apple saved the music industry from the death knell of piracy," Bernoff said. "But now Apple is calling the tune in terms of standards. The labels will welcome Microsoft and other competitors who can pressure Apple to open up its platform to third party licensing."
Cold Play
While analysts have a range of opinions on whether Microsoft can challenge Apple in the music space over the long-run, many agree that, at least for the short-term, Apple will remain the dominant player.
Research firm Piper Jaffray said Microsoft's launch will have "little near-term impact," largely because the overwhelming majority of traffic to the iTunes site is from users of Apple's own iPod.
Jupiter Research analyst David Card agrees, saying the test site brings Microsoft in line with the growing list of music-download competitors, but on first blush appears to do little to help it stand out.
"It doesn't raise the stakes for competition," Card told the E-Commerce Times. Microsoft will need to distinguish itself because, unlike Apple's situation, where consumers have only one place to get songs for their iPods, those using Windows-compatible players have many choices available.
Digital Music Credibility
The MSN site doesn't have such basic features as a subscription option, he noted, and critics of the software giant might be wondering if it can really go head to head with Apple in a consumer-oriented market.
Card said the music industry might also be disappointed when Microsoft doesn't invest millions to promote its new download site, as Apple did with iTunes. In fact, the beta launch came with very little fanfare or paid promotion.
Still, he added, "having Microsoft will still be seen as lending even more legitimacy to the market."