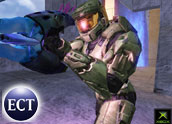 After months of speculation, Microsoft has inked a deal with Hollywood to make a movie based on its popular science-fiction video game series "Halo."
Universal Studios and Twentieth Century Fox agreed to pay Microsoft US$5 million plus up to 10 percent of domestic box office receipts. Universal will handle the film's production and domestic distribution. Fox is overseeing international distribution.
Creative Artists Agency represented Microsoft in the deal in which published reports put the initial asking price at $15 million plus 15 percent of movie ticket sales.
IDC video game analyst Shelley Olhava told the E-Commerce Times that "Halo" is a huge brand for Microsoft, so it seems natural that a hit gaming brand could be a hit movie. "It goes vice versa also. A great movie can make a great video game," she said.
Science Fiction Gaming
"Halo" is a sci-fi shooter that takes place on a mysterious alien ring-world. Packed with combat, "Halo" players find themselves battling on foot, in vehicles, inside and outdoors with alien and human weaponry.
The hero is named Master Chief and his objective is to uncover "Halo's" horrible secrets and destroy mankind's sworn enemy, the Covenant.
"'Halo' is a shooter that has translated well to the Xbox. It had a good story line, character development and playability," Olhava said. "People have played 'Halo' for hours and hours in different modes. They've also just played the game to get to the end of the story."
The End of the Story
Science fiction has proven to be a hit on the big screen with perennials such as "Star Wars" and "Close Encounters of the Third Kind" and modern-day flicks like "War of the Worlds" becoming blockbusters. And science fiction gaming is a staple of the industry that goes all the way back to Space Invaders and Asteroids.
But whether or not "Halo" can become a blockbuster success remains to be seen. Analysts said the track record for adapting a video game to a screenplay is not much different than adapting a book to a screenplay: Some are good. Some are not.
Microsoft hired writer Alex Garland, the mastermind behind the 2003 horror hit "28 Days Later" to flesh out the storyline for the big screen. And the software giant has demanded creative input into the production, which, along with the asking price, scared away some studios.
A Strategic Opportunity
The "Halo" movie deal is a strategic opportunity, according to analysts, and Microsoft wants to ensure the film maintains the standards of the video game.
Is Microsoft afraid that if the movie flops it will hurt video game sales, which have generated $600 million to date? After all, "Halo" is widely known as a platform seller for Xbox. Without this popular game, Microsoft's console may not have sold nearly as well.
Analysts said a box office flop would not be a problem for the best-selling game.
"The market has already been established with gamers," Olhava said. "They are eagerly anticipating 'Halo 3' and are very much tied into the brand. It's a very high quality game. Making 'Halo' into a feature film has the possibility of exposing 'Halo' to a much broader audience."
Microsoft has not yet disclosed whether it would release "Halo 3" in conjunction with the film release in 2007.