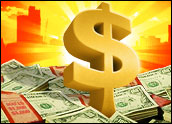 Microsoft will pay US$240 million for a small ownership stake in Facebook and the right to deliver ads to its members around the world, a move that values the four-year-old social networking firm at $15 billion.
The agreement, billed as a strategic alliance by the two companies, calls for Microsoft to become the exclusive ad provider for Facebook — not only in the U.S. but also internationally — and appears to represent a rare instance of Microsoft prevailing over, or being willing to outspend, rival Google.
The software company will gain a 1.6 percent equity stake in Facebook as part of the firm's next round of capitalization, one that is based on the firm having the $15 billion total valuation, a dramatic price tag for the firm Mark Zuckerberg started in his Harvard dorm room four years ago as a way of helping students connect with one another. Zuckerberg, who dropped out of Harvard to pursue Facebook's development, is said to want to take the firm public when the time is right.
'New Advertising Opportunities'
"This relationship will allow Facebook to continue to innovate and grow as a technology company, as well as bring relevant advertising to Facebook's nearly 50 million active users," said Owen Van Natta, Facebook's chief revenue officer.
From Microsoft's perspective, the deal opens up "new advertising opportunities around the world," said Kevin Johnson, president of the platforms and services division at the software giant. The move is a "great win for not only for our two companies, but also our collective users and advertisers," he added.
Microsoft was already delivering banner ads to Facebook's U.S. site under a deal it signed in mid-2006 and recently extended to 2011.
While the right to deliver ads is valuable, the long-term benefits of the deal may be more important, especially as Microsoft and Facebook work together on methods to better leverage the social network by finding novel ways for marketers to reach its users.
The news that an investment was coming ended weeks of speculation about a deal between the two. Google has also been linked to such talks with Facebook, and it's known that Facebook held extensive discussions about a possible sale to Yahoo last year, with that portal offering $1 billion for the network at the time.
Defensive Move?
The timing of the deal is notable, as it came as Google held its annual analyst day, where speculation was running high that it might be Google that emerged with a Facebook deal to announce.
For Microsoft, the payout is reasonable — even after recent dividends and an aggressive stock buyback program, it had more than $23 billion in cash on hand as of June 30 — and has plenty of strategic value, Enderle Group Principal Analyst Rob Enderle told the E-Commerce Times.
"If this were a straight investment, [$15 billion] would be too high, but the benefits to Microsoft are in the partnership and not the equity in the firm," Enderle said. "In short, they aren't buying stock, they are investing in their own future and making Facebook — which is predominant in its space — a part of that future. They are also making sure that Google doesn't gain any more power and that alone is probably worth several times this amount."
Microsoft may have been motivated to ensure it beat Google to the punch on Facebook, which continues to see rapid growth and has emerged as the main social networking option for not only college students but also professionals who are increasingly turning to the site to make professional connections, seek out job opportunities and build their personal networks. Facebook adds more than 200,000 new users each day, the company said, adding that 60 percent of its users are outside the U.S.
"The expense does seem reasonable for Microsoft, who will now work to turn this into a deeper partnership where Facebook will increasingly be using Microsoft technologies and services," Enderle added. The move may also reflect a "growing concern that Google either owns you or owns your revenue with respect to partnerships with them" and that Microsoft, after years of being vilified, may have been viewed as a "white knight" capable of breaking Google's grip on the Internet ad market, he noted.
Social networks are considered vast opportunities for advertising because they are largely untapped by traditional Web ad methods and because users typically spend a considerable amount of time on the sites, monitoring and updating their networks, searching out new contacts and interacting with the constantly evolving user-generated content.
Facebook has generated considerable excitement, meanwhile by moving to turn itself into a platform, inviting developers to create plug-ins and applications that work on the network.
Stay Tuned
Facebook has said it plans to announce new advertising innovations early next month when the ad industry gathers in New York for the Ad:tech conference, but has declined to specify what that announcement will be.
Google executives, meanwhile, declined to discuss the Microsoft-Facebook deal during their analyst day gathering. Google had beaten Microsoft to the punch on a number of earlier deals, taking a 5 percent ownership stake in AOL after that portal also talked to Microsoft and buying interactive marketing firm DoubleClick after Microsoft had kicked the tires of that company as well.
The key parts of the deal appear to be the ones not announced by the two companies, search expert and Google book author John Battelle told the E-Commerce Times.
"The important stuff is the stuff not being announced, such as how they work together on the Facebook platform and whether there's some guarantee that Facebook won't work with Google on a future ad platform that might be developed," Battelle said. During a conference call on the deal, executives from both companies declined to comment in detail on whether the collaboration extends beyond what was announced.
"It may be that Microsoft won and Google lost, but the real winner appears to be Facebook, at least for now," Battelle added. The burden of living up to its valuation now shifts to Facebook, however, and that could be a challenge given that social advertising is still largely a theoretical marketplace. Still, the possibilities are enormous if Facebook can find a way to deliver targeted ads to users based not only on search query terms and online behavior but their own profiles. "It could be a major new platform, if we as a culture, take to it. It's not a given, but a very compelling vision."