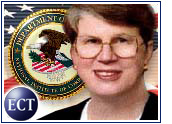 Assistant U.S. Attorney General Joel Klein, the man who will almost certainly be remembered for his successful pursuit of charges that Microsoft monopolized the computer software and Web browser markets, will leave the U.S. Department of Justice (DOJ) later this month.
Klein will step down as head of the department's antitrust division as both sides in the Microsoft case await word from the U.S. Supreme Court on where the next chapter in the epic legal battle will take place.
In a statement, Klein said he does not yet know where he will land after leaving the government post. Although he is sure to be sought by high-profile law firms and high-technology companies eager to avoid antitrust cases of their own, Klein said that conflict-of-interest regulations have thus far prohibited him from seeking a new job.
Microsoft Foe
Although he was slated to leave office in January, when the next U.S. President will be inaugurated, Klein's early departure may signal that he is more interested in a private-sector job than in a position with the next administration. Klein was a private attorney in Washington, D.C. for 20 years before entering government service.
"The time has come to seek new challenges," Klein said. "I have done what I set out to do here, and our work is on the right track."
Attorney General Janet Reno called Klein "a champion for America's consumers," adding that "he has fought tirelessly for marketplace competition, and Americans have enjoyed better products, more choices, and lower prices as a result. He has always called them as he saw them."
Klein, who earlier served as counsel to President Clinton, gained a reputation as a fierce antitrust crusader during his nearly four years at Justice, successfully launching criminal charges against international corporations accused of price-fixing. He gained instant fame by leading the charge against Microsoft.
Case Not Over
According to statistics released by the DOJ, the antitrust division either blocked or affected 170 mergers and acquisitions during Klein's tenure, forced corporations and individuals to pay $1.9 billion (US$) in fines and sent 52 executives to prison. His time in office coincided with a massive boom in mergers, with nearly $2 trillion worth of deals now being considered by regulators every year.
While Klein leaves without a final decision in the Microsoft case, it is unlikely the decision would have come before Klein was forced to hand over control of the office next year.
Earlier this year, Judge Thomas Penfield Jackson sided with the DOJ by ruling that Microsoft acted as a monopoly and ordering the company to split into two separate firms. Klein has asked that the Supreme Court hear Microsoft's appeal, while the Redmond, Washington-based technology giant is seeking a hearing in the U.S. Court of Appeals in Washington, D.C., which has sided with the company in the past.
Legacy Up in Air
Doug Melamed, who has served as Klein's deputy, will step in as acting chief of the division, the department announced. Among his first duties will be handling the Microsoft appeal. The Supreme Court is expected to determine the next step in the case sometime this fall.
Some legal analysts believe the company will prevail by arguing that the punishment of breaking up the company does not fit the crime.
While Klein is best known for his Microsoft work, he most recently was at the helm of a sweeping price-fixing case involving European drug makers. That case resulted in the largest criminal fine ever paid in an antitrust case, a $500 million penalty paid by a Swiss company.