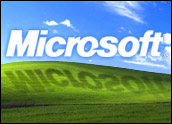 Microsoft yesterday said it has filed four lawsuits against companies in Virginia and California for allegedly distributing counterfeit or illicit software.
The software giant filed suits in U.S. District Court against CEO Microsystems of Irvine, Calif., Wiston Group of Walnut, Calif., #9 Software of Hampton, Va., and East Outlet and Super Supplier of Newport News, Va.
Consumer complaints to 1-800-RU-LEGIT brought the questionable actions to Microsoft's attention. Consumers from dozens of states and Canada called the anti-piracy hotline.
"We have an obligation to protect consumers and legitimate resellers," said Mary Jo Schrade, senior attorney at Microsoft. "In filing these lawsuits, we hope to curb the amount of pirated and counterfeit software on the market and keep illegal software from finding its way into the hands of unknowing consumers and businesses."
Making Headway
The Business Software Alliance reports that 35 percent of the software installed on computers is pirated. That represents a loss of nearly US$33 billion to the software industry worldwide. That's a 1 percent decrease in the amount of pirated software over 2003 data, but a $4 billion increase in the dollar value in a fast-growth market.
Jenny Blank, director of enforcement at the Business Software Alliance, told TechNewsWorld that lawsuits are one of many important tools to get the message out and are a contributing factor to the declines.
"We have seen a significant improvements in a number of regions due to increased education, increased awareness, and increased government interaction, including new laws," Blank said. "For example, the United Arab Emirates broke into the top 20 list of countries with the lowest piracy rates this year because they've had a multi-year program to improve intellectual property protection laws. The message is getting out there."
Education vs. Enforcement
These four lawsuits are the latest in an ongoing Microsoft effort that was empowered when President Bush signed the Anti-Counterfeiting Amendments Act in December 2004. The law strengthened the software industry's ability to protect itself from those abusing certificate of authenticity (COA) labels — the "authentication" labels that are paired with legitimate software.
Previously, legal action was taken against those selling or possessing counterfeit COA labels. The law created specific criminal and civil penalties for the distribution of genuine COA labels without the software the COA labels were intended to authenticate. Schrade said the companies named today were given the opportunity to comply with current laws,including the Anti-Counterfeiting Amendments Act.
"In these cases, we sent cease-and-desist letters to help them understand our concerns," she said. "We allege that these companies chose to violate the law and continued to do so even after we discovered their activity and provided information on how to operate legally. Disregard for the laws that honest resellers follow is troubling."