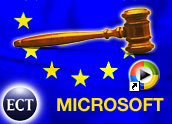 European Union regulators say they want an agreement in place by the end of the month on how Microsoft will comply with the sanctions imposed on the software giant last year, raising the possibility of additional monetary penalties if no deal can be reached.
European Competition Commission member Neelie Kroes told reporters in Brussels that Microsoft and the Commission's staff attorneys agreed to have at least the framework for a final compliance deal in place by the end of the month. Kroes said the agency is waiting for Microsoft to submit its latest proposal.
The Commission has the right to fine Microsoft up to US$5 million per day for failing to be in compliance with the sanctions handed down more than a year ago, in March of 2004. Putting those fines in place would require several procedural steps, including a vote of the full 25-member Commission.
Squaring Off
Microsoft has pledged to bring itself into full compliance and has reportedly already paid the record US$654.9 million fine that was in the ruling last year from the EU. However, the Commission has expressed frustration at times about the pace of movement on other issues, notably the sharing of server source code with rivals and the production of a Windows operating system that does not contain the Windows Media Player software.
The two sides have been at loggerheads repeatedly since the ruling imposing the sanctions, with the parties often far apart on what appear from a distance to be fairly minor details. In March, the Commission rejected Microsoft's suggestion for a trustee to be named to monitor compliance. Another sticking point has been how to allow potential licensees of its operating system source code to evaluate whether to purchase such a license.
Though the Commission didn't say it would start assessing penalties if no agreement is in place by June 1, it has the authority to levy a fine equal to 5 percent of Microsoft's daily sales, or around $5 million.
Such deadlines seem to have provided the impetus to move negotiations forward in the past. Microsoft debuted its enhanced Shared Source Initiative (SSI) , the process by which it reveals code to third parties, just ahead of a time frame for the EU to start issuing monetary fines.
Microsoft has publicly proclaimed its willingness to comply with the EU sanctions, which fits with its larger strategy of shifting resources away from legal battles in order to better be able to meet the competitive threats that it faces in the form of Linux and the open-source movement, Enderle Group principal analyst Rob Enderle told the E-Commerce Times.
Microsoft has settled several major lawsuits in recent years, including blockbuster private antitrust deals with AOL and Sun Microsystems, large-scale settlements with individual U.S. states that had accused Microsoft of anti-competitive behavior, as well as smaller suits dealing with antitrust and intellectual property disputes.
Sticking Points
Internal memos from Microsoft and the company's public comments show an awareness that it would fare better in the competitive landscape if it adjusts its approach, Enderle said. "Putting legal cases to rest enabled them to focus on producing better software and keeping customers happy," he added.
However, all along, a key question has been how far Microsoft is willing to go to comply with the sanctions laid down by the EU. The software maker moved to produce a version of its operating system stripped of the Windows Media Player, only to run into disputes with the EU over pricing and naming.
"It's a fine line for Microsoft to try to walk," Yankee Group analyst Laura DiDio told the E-Commerce Times. "They want to be seen complying, but they also have made it clear they feel the sanctions are too much."
Enderle said Microsoft's history of butting heads with regulators in the U.S. and Europe might put it at a disadvantage, since it likely won't get the benefit of the doubt from regulators — or in the court of public opinion — if questions about its commitment to complying are raised. At the same time, the EU regulators have taken a much harder line than those in the U.S., who were able to negotiate a settlement with Microsoft.
Meanwhile, settling the issues now might only be a prelude to further action when Microsoft's Longhorn launches, since that platform is expected to include even tighter integration of various software components.