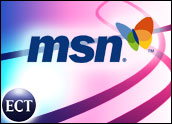 Bidding to stake an early claim on the fast-growing mobile advertising space, Microsoft said Monday it was making display advertising space available on its MSN Mobile portal for the first time and had already signed up advertisers for the service.
Jaguar Cars North America and Paramount Pictures will be the first brand advertisers to use the display ad service, which will place banner-style ads alongside existing text advertisements on MSN Mobile pages, Microsoft said.
The service will leverage technology Microsoft developed in-house as well as tools acquired through the purchase of Screen Tonic, a European mobile software maker it bought in May.
Extending Campaigns
"By incorporating advertising on MSN Mobile, we are allowing advertisers to extend their existing campaigns from PCs to games and now to mobile phones, further delivering on our vision to extend advertising across multiple platforms and devices," said MSN Chief Media Officer Joanne Bradford.
The new advertising format is part of a larger push to "make significant investments" in the mobile portal, including new services and content, Bradford added. MSN recently added the ability to purchase movie tickets, ringtones and mobile games through the portal as well as new content through the Fox Sports channel.
The U.S. launch comes after earlier forays into the mobile ad space in overseas markets including Japan, France, Spain, Belgium and the UK.
Microsoft shares were up about 1 percent in morning trading Monday to US$34.86.
Movies and More
Paramount will use the mobile platform to advertising the upcoming film "Cloverfield." The studio will spread awareness of a promotion which rewards the person who clicks onto a preview with the opportunity to be the first to see the full movie.
"We wanted to find cutting-edge ways to market the film," said Amy Powell, the studio's senior vice president of interactive marketing. The mobile ad campaign will be valuable for reaching the film's target audience because it "extends our reach and connects us with our audience on an additional digital touch point."
The mobile push came as Microsoft also announced it had signed an agreement to syndicate advertising to the CNBC Web site.
"Microsoft is really stepping up their advertising efforts," Enderle Group Principal Analyst Rob Enderle told the E-Commerce Times. "Mobile is the next big battleground, and in 2008 you'll see folks entering this segment that you wouldn't expect. This move by Microsoft is on the tip of what will likely be a huge iceberg."
Advertising is the key to a sea-change in the mobile services industry, he noted, with many providers positioning themselves to offer free or discounted services in exchange for the ability to deliver advertising. The same model is the basis for Google's mobile push.
It remains early, however, with most current phones doing a poor job of displaying mobile Web content. That will change rapidly in 2008 as handset makers try to out-innovate Apple's iPhone. "The experience with 3G phones is faster and with a raft of phones going after the iPhone — all, including the iPhone, expect properties like MSN Mobile to become much more popular next year," said Enderle.
Waiting for Space
There's little doubt other Web players are eager to deliver similar ad services. Just after Microsoft bought Screen Tonic, AOL purchased Third Screen Media and, in September, Google launched a mobile version of its AdSense display ad platform.
It's easy to understand why the companies are angling for position in a still-emerging space. Mobile brand advertising alone — as opposed to ads that require an immediate response such as clicking on a link — will grow from a $123 million industry last year to $3.5 billion within four years, eMarketer recently predicted.
Much of that growth is predicated on the availability and use of devices that make more advanced forms of advertising palatable to consumers, Sterling Market Intelligence Analyst Greg Sterling told the E-Commerce Times.
People have repeatedly expressed an interest in accessing mobile content — including marketing messages — that are relevant, but they need the devices on which to do it, Sterling said.
"Everyone is getting in line now because the monetization will begin in earnest once those last few pieces of technology are in place," he added.