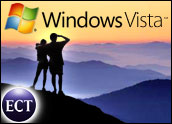 Just days after it unveiled the new name for its first major overhaul of the Windows operating system in four years, Microsoft faces the prospect of a trademark infringement action from another technology firm that uses the name "Vista" to sell its own software.
In published reports, John Wall, the CEO of Vista Inc., which offers online solutions for small and mid-sized businesses, has said that company is weighing its options, including a possible trademark infringement suit. The company says it first wants to see what impact the announcement has, measuring its Web traffic, for instance, for signs of possible confusion among the public about the name.
For instance, if traffic to Vista.com spikes amid the flurry of news coverage on the Windows Vista announcement, that might indicate that consumers are confusing the companies and their products.
Name Choice Debated
Windows Vista is Microsoft's name for the new platform after the software giant decided to shelve the "Longhorn" code name that had become associated with it during its long development cycle. Branding experts vary on whether Windows Vista is a good name, but most agree that it will be Microsoft's reputation, how well the product works and the specific marketing push made when the operating system is launched that will determine its success in the long run, rather than the name it's sold under.
"The reality is that Microsoft could have picked anything and it wouldn't affect sales one way or another," Patrick Mullen of consulting firm Business Edge told the E-Commerce Times. "A good product and a $100 million advertising campaign will generate results and a 'perfect' name will not help a bad product. Pretty much everyone knows Microsoft and will either make their decision on their opinions of Microsoft's reputation or on product reviews."
Given the way Microsoft unveiled the new name, most analysts say the company likely spent considerable time weighing it and researching the potential conflicts. Many U.S. and international businesses alike use Vista as part or all of their name.
However, because Vista is a software company, the possibility of a legal challenge appears most likely to come from it. The firm is a neighbor of Microsoft's, based in Redmond, Wash., but unlike at least two other firms that bear the Vista name and make software, does not have a directly relationship as a partner or reseller of Microsoft products.
Taste of their Own Medicine?
To many, such an action would be an ironic turning of the tables, since Microsoft has been notorious in its own defense of its intellectual property, including its various trademarks and especially the Windows name.
Microsoft had a long spat with a Linux software maker that eventually agreed to change its name from Lindows to Linspire after Microsoft reportedly agreed to pay the smaller first a US$20 million settlement.
Microsoft also got a black eye from a publicity standpoint when it targeted a Canadian teenager after he established a Web site based on his last name. The software company claimed the site, MikeRoweSoft.com, infringed on its trademark.
In addition, Microsoft has liked names enough to buy them from their owners in the past. That happened when it purchased the rights to the name "Internet Explorer" for its new browser, paying $5 million to a regional Internet service provider for the rights to the trademark.
Jury Still (Way) Out
Meanwhile, there remain widespread and passionate opinions about whether the Vista name was a good choice for Microsoft.
"Vista, under no circumstances, suggests clarity," Naseem Javed, author of Naming for Power and the founder of ABC Name Bank, said. "That's branding mumbo jumbo." Javed also writes a weekly column for the E-Commerce Times on naming and branding.
However, Microsoft's problem might not be all that bad. Microsoft itself is "one of the world's great technology brands," Javed told the E-Commerce Times. "They were very lucky to find and to have coined their company name. But beyond that, they've not been very lucky in finding good branding strategies for their products." However, like IBM, "they're so big, people really don't care. Trying to come up with brands may just confuse the issue."
In fact, Javed said that the Windows Vista name might lead to confusion. If consumers try to abbreviate the name, as they often do, they'll end up with WV, which looks an awful lot like Volkwagen's logo, he noted.
Beyond that, said Mark Stevens, CEO of marketing firm MSCO, Microsoft doesn't get high marks for creativity. "Will it sell? Probably. Then Microsoft can celebrate having the 1 millionth product named Vista. Can't get any safer than that," Stevens told the E-Commerce Times. "This is the equivalent of Steve Jobs calling the iPod 'Melodies' or 'Tunes.' Longhorn made a statement. It doesn't explain the product, but it does say, 'we have nerve and verve.'"
While Apple embraces its cutting-edge position, he said, "Microsoft is sending a signal that it's shying away from its innovativeness, edginess and coolness."