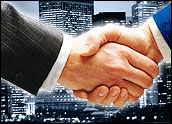 Cisco and Microsoft may be on a collision course in some areas, including the push to bring a single communications platform to businesses, but their CEOs said Monday the two companies will continue to work together to ensure their products remain compatible.
Microsoft CEO Steve Ballmer and Cisco chief executive John Chambers held a joint question-and-answer session in New York, moderated by TV host Charlie Rose, in which they emphasized cooperation — a contrast to the competitive face-off taking place in some arenas.
The discussion grew out of questions from customers, Chambers said.
"They've said we need to understand better what you're going to do, where you're going to interoperate, where you're going to compete," he said, according to a transcript of the discussion provided by Microsoft.
The relationship is a complex one, Ballmer acknowledged, with the two companies both partners and competitors at once.
"Our customers love the fact that we compete," he said.
Friends and Salespeople
Still, customers also want flexibility and desire to know that if they choose to purchase some solutions from Cisco and others from Microsoft, they will all work together, Ballmer added.
Customers "want to make sure the stuff works together brilliantly, and expect our engineers and our field people to do that," he noted. "I think that's the thing we both recognize. Whether we're competing or not, we've got to get that level of sophistication and interoperability, or those customers aren't going to be very, very happy."
The pair of tech heavyweights said their collaborative efforts will span some 10 different areas, including security, IT architecture and management, wireless and mobile computing, unified communications, home entertainment, and solutions for small and medium-sized businesses.
While Ballmer and Chambers may have smoked a peace pipe in public, the real test will be how the companies' "legendarily aggressive" sales forces behave in the field, and how their engineers go about their business in the lab, Ovum analyst Jan Dawson told the E-Commerce Times.
"Hopefully, they will both move a little further in the direction of interoperability, but they will both also continue to do their best to create a world where the other isn't needed," Dawson added.
The companies are correct that business technology buyers want choices. "Customers don't want to be forced into an all-or-nothing approach from any vendor," Dawson said, adding that it will be interesting to watch as the two companies work on standards for interoperability, given that each has a history of developing proprietary systems. "The tension between seeking competitive advantage through proprietary technology and establishing interoperability through open standards will remain."
The Google Factor
In the question-and-answer session, Ballmer said the groups' latest cooperation began in February after he received a call from Chambers. They first broached the idea of moving beyond what he called "casual interoperability" in a meeting that followed. Since then, they've been developing cooperation in some areas over several months.
Both CEOs emphasized security as an area where more cooperation will pay dividends for customers, and Ballmer said network management will be made easier as standards are hashed out with other partners, such as EMC, to make it easier to move data around.
The two companies will also focus on home entertainment — particularly delivery of video, a field Microsoft has longed to have a role in and where Cisco became a major player when it bought set-top box maker Scientific-Atlanta.
Both also emphasized collaboration, with Chambers predicting that Web 2.0-style changes that enable the Internet to be used to work together will "usher in a wave of transformation that I think will make the first wave of the Internet look small."
Assuring Customers
The unusual media event was aimed mainly at assuring customers that may have thought an all-out war between the two was coming, said Gartner analyst Martin Reynolds.
"No enterprise wants to think the investments they've made or those they are considering are going to be thrown into chaos because products don't work together," he said. With millions of copies of Windows being accessed through Cisco routers, customers had reason to worry that the companies would become competitors eager to limit the others' ability to move into new areas. "This a bit of reassurance that things will continue to work together."
While the theme was cooperation, there were plenty of times when the companies' differences were on display. For instance, at one point, Rose asked both CEOs about Google and elicited very different responses.
Ballmer noted that recent moves may suggest Google is choosing to compete with telecommunications companies, while Microsoft is interested in partnering with those companies.
Chambers, meanwhile, said he felt Google was good for his business. "I love anybody that loads the network, so let me be very upfront: Anything that loads networks with video benefits Cisco," he said. "Google is neither a friend or a foe."