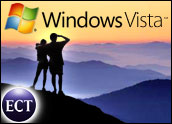 Microsoft said Wednesday that Vista for Enterprises, the business version of its Windows Vista operating system, will ship on Nov. 30, starting the countdown to one of the most hyped, analyzed and anticipated product launches in recent history.
In addition, the software giant said it would launch Office 2007 and an updated version of Exchange simultaneously with Vista for Enterprises. Microsoft did not say when Vista will be available via retail outlets.
CEO Steve Ballmer and Microsoft partners will appear at a Nasdaq stock exchange event to mark the launch of Vista for Enterprises. It will kick-off the initial availability of the OS to customers with enterprise licenses and those with software assurance contracts with Microsoft.
A recent Forrester Research survey found that 40 percent of its sample of business IT decision makers planned to migrate to Vista within a year of the product launch date. This suggests a strong pent-up demand for the platform that is likely based on the promise of increased security and built-in collaboration tools.
Vista Horizon
Microsoft hoped to make all flavors of Vista — including home and "ultimate" versions — widely available before the end of 2006, enabling PC makers to pre-load the operating system on machines in time for the busy fourth quarter. Earlier this year, that schedule was revised to "shortly after the new year."
Microsoft is likely striving to get Vista up and running for all customers in advance of the Jan. 7, 2007 start of the Consumer Electronics Show in Las Vegas, where Bill Gates is slated to give a keynote address.
The company has not said the consumer version of Vista had been released to manufacturing, a term that indicates the software is ready to be loaded into PCs and burned onto discs. However, that could happen in a matter of days.
Delays, Delays
Software launches are notoriously fluid events in which last-minute bugs can cause significant delays. As a result, many companies hedge their bets by keeping launch dates a secret for as long as possible.
That was all but impossible for Microsoft, however. It pledged to create a follow-up to Windows XP that was more fully integrated with the Web and other tools and was more secure.
The release of Vista — known as Longhorn for much of its multi-year development cycle — is a critical milestone for Microsoft. With open source software threatening its business environment dominance and new players such as Google posing a threat in the Internet space, Microsoft has to hit a home run with Vista.
The launch will also come just days after Microsoft's consumer electronics division pushes the Zune audio player to market. If it hits stores as planned in mid-November, Zune may capture part of the key holiday season.
Wait and See?
In its most recent financial report, Microsoft said it was preparing to invest heavily in a coupon program that will enable holiday buyers of new PCs to receive free upgrades of Vista when it launches.
The delays in retail availability of Vista may help rival Apple gain additional traction with the Mac OS, but it may be several quarters before it is clear how much Vista has changed the PC landscape.
Many businesses will need time to plan a shift to Vista, meaning a 12- to 18-month roll-out is likely in many enterprises, emphasizing the need to hit forecast launch dates, Gartner analyst Martin Reynolds said.
"Delays, especially last-minute delays, send up alarm bells for IT departments," he explained.