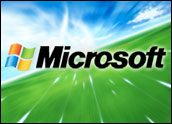 Microsoft posted strong first-quarter earnings Thursday and issued a buoyant forecast, capping a week of positive news for the software giant and prompting investors to send its shares to new high levels for the year.
Microsoft — which on Wednesday beat out rival Google to take a stake in Facebook and on Monday finally settled its antitrust case with European regulators after years of wrangling — said surging sales of Windows Vista, the Office suite and the "Halo 3" game for its Xbox 360 all contributed to a strong quarter.
The company's profit surged 23 percent to US$4.29 billion, while revenue rose 27 percent to $13.76 billion compared with $10.81 billion a year ago, it said.
Translating Revenue Into Profits
Microsoft posted its best first-quarter growth since 1999 thanks to strength in a number of its divisions, including the operating system business, which has now shipped 88 million copies of Windows Vista since it debuted earlier this year, said Chris Liddell, the company's chief financial officer.
The fact that net income rose even as the company invested in interactive ad firm aQuantive and continued to invest in development of its Web search and ad platforms "reflects our ability to translate revenue into profits while making strategic investments for the future," Liddell added.
Microsoft shares roared higher after the report, climbing more than 10 percent in morning trading Friday to $35.37. If the stock closes above $35, it will mark the first time in more than six years the company's shares have settled at that level.
Wearing a Halo
Big drivers of the strong quarter included the release of "Halo 3." Microsoft released the game just a few days before the end of the quarter; however, excitement helped propel console sales as well and drove Microsoft's entertainment division to its second most profitable quarter ever — the first came just after the release of "Halo 2."
"Halo 3" debuted on Sept. 25, and Microsoft said retailers reported game sales of $170 million in the first 24 hours and $300 million in the first week — making it one of the fastest-selling games in industry history.
Vista sales were also strong, with Microsoft reporting a greater interest among PC makers and customers in the higher-end version of the new Windows platform. Those versions have a higher price tag and also contribute more to the profit margin.
Revenue from Microsoft's client segment was up 25 percent on the strength of Vista to $4.1 billion in the quarter. The number of premium Windows versions shipped to consumers rose 150 percent, while business premium sales were up 11 percent.
Revenue from the server and tools division rose 16 percent to $2.9 billion, with Microsoft citing strong annual license growth for Windows Server and SQL Server.
Almost Entirely Upbeat
Unlike other recent earnings reports, which had areas of concerns and weakness, the report was almost entirely upbeat, Ovum analyst David Bradshaw told the E-Commerce Times.
Even the online services division, which has been a laggard for some time, saw a 25 percent increase in revenue to $671 million and the entertainment business line saw sales nearly double to $1.93 billion on the strength of "Halo."
"Microsoft is even seeing a sales increase thanks to lower piracy rates in places like China and Russia, which is something it has been concerned about for some time," Bradshaw said.
"This is good news for the entire tech industry," he added. "Given the size of Microsoft's partner network, it is likely pulling a lot of smaller firms along on its coattails right now."
The New Microsoft?
Microsoft boosted its outlook for its second quarter and for the 2008 fiscal year, predicting revenue of $15.6 billion to $16.1 billion for the current quarter and $58.8 billion to $59.7 billion for the full year — an increase of nearly $2 billion.
The forecast may have some investors thinking about Microsoft as a growth story again after a long stretch in which Microsoft seemed to be unable to get traction in the online marketplace and had relatively slow growth in its core software businesses, Enderle Group Principal Analyst Rob Enderle told the E-Commerce Times.
Microsoft seemed to be sending signals it had matured into a value company in the eyes of investors, moving to pay out dividends, for instance. Now, however, with its aQuantive online advertising buy being integrated and its recent investment in Facebook, it may be signaling it is back on a growth trajectory.
"It's somewhat out of character for Microsoft to be as aggressive as they were with Facebook and to block Google that way," Enderle said. "It may be a signal they are trying to change the game by going on the offensive."