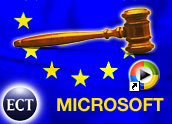 Microsoft formally asked a European court to toss out a requirement that it share expanded portions of the Windows source code, the opening salvo in what analysts say is shaping up to be another epic battle with antitrust regulators.
In the first of what is slated to be a two-day hearing before the Court of First Instance (CFI) in Luxembourg, Microsoft said remedies ordered by the European Commission (EC), especially a requirement that it share its code, should be put on hold while Microsoft's appeal of the historic ruling wends its way through the process.
The software giant argued that if it should prevail on appeal of the EC's March ruling that Microsoft abused its market dominance in the operating system arena to boost its other products, the fact that it shared its source code would be irreversible and could cause it to suffer competitive harm.
Record Fine
That March decision called for Microsoft to pay a record of fine of around US$600 million, to make a version of Windows available that does not include its Media Player software and to share enough code so that rivals can create server software that will be compatible with the operating system.
In court today, Microsoft's attorney, Ian Forrester, said the fact that the commission called its own decision precedent-setting signals the need for caution.
"The commission decision is intended to achieve permanent structural change in the industry," Forrester said. "The more extraordinary the precedent, the more reason to be cautious."
Microsoft also presented evidence of the rise of alternatives, such as Linux, as evidence that lacking the Windows source code is not a barrier to entry into the enterprise market.
Only the Beginning
It is expected to take at least two months for a ruling on Microsoft's request to suspend the sanctions during the appeal, which some observers believe will take two years or more to unfold.
The European ruling was seen as a major win for RealNetworks and other companies that make media player software, as well as for companies that make enterprise servers, such as Sun Microsystems, which set the European review in motion with a formal complaint in 1998. Ironically, Microsoft and Sun have since settled numerous private suits and agreed to cross-license products going forward.
Only time will tell if those companies ever see a benefit, and some analysts believe Sun and other companies, including some Microsoft competitors, might come to its defense in the proceedings because of concern that the EU will try to alter other parts of the technology market to give European companies and others a better chance to compete.
Media Player Haters
On the heels of the decision, Microsoft — which sent several top executives to Europe in an attempt to negotiate a settlement — made it clear that it felt the two nonmonetary sanctions in the EU's ruling were the ones it needed to fight most vigorously.
The requirement to strip Media Player hit especially close to the heart of Microsoft's longterm strategy, Yankee Group analyst Laura DiDio told the E-Commerce Times.
The media player is at the center of a strategy that positions Microsoft's products for both distribution and consumption of a range of digital media, including music and movies.
"I think they would have preferred a fine twice as large to anything that takes the player out of the desktop environment," DiDio said. "The inclusion of that penalty alone ensured the appeal and a long drawn out process."
Share and Share Alike?
As for the code-sharing requirement, Microsoft has become increasingly willing to reveal some parts of its long-guarded software script, opening it up to foreign government agencies, for instance, who were concerned about its inherent security.
However, Microsoft wants to make those decisions on its own terms, Gartner analyst David Smith said.
"If all the penalties went into effect today, Microsoft's market position and its competitive position wouldn't change all that much," Smith said.
The company is already working on alternative Windows versions for several markets and gives some PC makers the option of switching media players. Still, Microsoft has seen its browser market share slip some after the U.S. antitrust ruling, and similar small shifts are possible if the same result occurs in Europe.