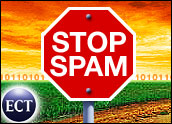 An alliance of leading Internet companies — including AOL, Microsoft, Yahoo and EarthLink — has filed a wave of lawsuits against "hard-core" spammers under the new CAN-SPAM law that took effect at the beginning of 2004.
The companies said they have filed six lawsuits that name hundreds of alleged spammers as defendants under the law, which is formally known as theControlling the Assault of Non-Solicited Pornography and Marketing Act.
Spreading the Net
"Congress gave us the necessary tools to pursue spammers with stiff penalties, and we in the industry didn't waste a moment," AOL executive vice president and general counsel Randall Boe said.
Boe said the targets of the actions are "hard-core, outlaw spammers" and that the lawsuits are "the fruits of our concerted efforts to find spammers, track them down, sue them and the next step will be to put them out of business."
The lawsuits were filed in four federal jurisdictions across the United States — California, Georgia, Virginia and Washington state — with each company taking the lead against certain groups of alleged spammers.
EarthLink vice president and chief privacy officer Les Seagraves said some 50 million spam e-mail messages travel across the EarthLink network every day, with half of all messages counting as spam. "Spam is in danger of destroying one of the most important communications tools we have in our time," he said.
Talking Tough
The Web company executives said the alliance and legal actions are necessary because spam is the top consumer problem on the Internet.
"We plan on having a real impact on the spam world," Boe said. "If you're a spammer, this is not a great day for you. Ultimately, we're going to locate you and sue you."
Many solutions to the spam scourge have been implemented or floated, ranging from filtering at the ISP or network level to requiring e-mail users to pay for each message sent, an idea that Microsoft chairman Bill Gates recently endorsed in a public appearance.
Forrester analyst Jim Nail said legal actions will help curtail spam somewhat over time, but he pointed out that spam volume has not lessened significantly since CAN-SPAM took effect January 1st.
"Going after the bad guys is one step," Nail told the E-Commerce Times. "But unless fundamental shifts occur in how e-mail is treated, the spammers will continue to find a way to evade the law."
Who's Calling?
The companies also planned to announce support for Microsoft's "Caller ID" anti-spam specification, which is designed to make it more difficult to hide or fake the source of e-mail messages, thereby making tracking spammers easier.
Microsoft first unveiled the spec at the recent RSA security conference, saying it will help eliminate the most common masking and spoofing tools used by spammers to evade detection.
Paper Anniversary
The latest action came almost exactly a year after the companies formed an alliance to root out spammers and develop technological solutions to the junk e-mail problem, which has been blamed for US$20 billion a year in lost productivity and network resources.
The announcement also came just days after the first lawsuit allowed under the CAN-SPAM law was filed. In that lawsuit, California-based ISP Hypertouch accused companies of sending spam e-mail tied to the BobVila.com home-improvement Web site.
Microsoft and AOL have been among the most aggressive pursuers of spammers. Microsoft announced in late 2003 that it would work closely with New York state Attorney General Eliot Spitzer to file both criminal and civil suits against spammers.
Naming Names
Each of the lawsuits names multiple defendants, including some whose identities are still not known.
Microsoft has filed two cases against defendants who sent hundreds of millions of e-mails to Hotmail and MSN users.
For its part, Yahoo has filed suit against three alleged spammers who operate "The Head Operation," which was responsible for sending 94 million e-mails in January alone. Some of those messages had deceptive subject lines, such as "your mom might be sick" and other "trick" subject lines, while others lacked the required unsubscribe information.
Yahoo senior vice president Mike Callahan said the operation represents "by far the greatest single source of disruptive illegal spam on the Yahoo! network."
AOL said it is unsure how many spammers are involved in its lawsuits. "We're talking about hundreds of people," Boe said.