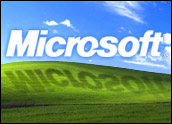 Microsoft on Monday unveiled what it bills as the first ever pay-as-you-go personal computing service, a move that the software giant and a cast of industry partners hope can help bridge the digital divide by lowering financial barriers for millions of people in developing nations.
The technology, called FlexGo, borrows heavily from a successful approach used in the cellular phone industry, where millions of phones have been sold without calling plans but with users buying minutes on calling cards as they need them.
Proven Method
"Today there are already more than 1 billion prepaid mobile phones used around the world, so we know FlexGo enables a familiar and comfortable pay-as- you-go model that works for people with variable or unpredictable income," said Will Poole, senior vice president of the Market Expansion Group at Microsoft. Hundreds of millions of families and small businesses in emerging markets may be able to gain access to the PCs for education, entertainment, communication and productivity uses, he added.
Through FlexGo, consumers can get PCs through the program at about half the regular retail price. They then purchase prepaid cards that give them hourly access to the machine and pay down the rest of the cost over time. Those cards are necessary to operate the PCs. Once the hours purchased run out, the machine will stop working until additional time is bought.
Microsoft said it has been testing FlexGo for nearly a year in Brazil, where it will expand the program. Within the next three months, it will also be rolled out in India, Mexico, China and Russia, with Slovenia, Hungary and Vietnam among the markets to follow later. The company said it was targeting markets where consumers have limited access to credit and where PC costs are typically out of the reach of many residents. It did not say if or when it would run the program in the U.S.
For Microsoft, the approach may offer a new way to battle rampant piracy in emerging economies, where consumers are often faced with a choice of low-cost machines loaded with pirated software or much costlier machines with legitimate programs.
Friends in Need
The program enjoys the support of many industry partners, Microsoft noted, with chipmakers AMD and Intel on board, as well as PC maker Lenovo and local banks and telecommunications companies.
Underpinning the system is FlexGo, the technology Microsoft developed to meter usage of the hardware, software and third-party services. It said the technology would bring "the flexibility of an Internet cafe into the home."
Users are kept informed of time used while on the PC and add time by typing the numbers off pre-paid cards into the machine. After a certain number of hours are purchased, the PC becomes owned outright and is "unlocked" for full usage.
University of Michigan Professor C.K. Prahalad said the technology seems poised to help reach millions of people who currently have no access to PC technology, which in turn locks them out of much of the modern economy. "Global firms can 'do well and do good' by activating this new category of consumers," he said.
Choice of Bridges
Closing the digital divide has been the subject of much discussion, debate and technological research for more than a decade, as developed countries became wired for high-speed communications, a trend that left out millions in poorer countries — and the poorest people in the U.S. and other wealthy economies.
Microsoft founder Bill Gates has pledged to help bridge that divide and has donated millions of dollars from his charitable foundation to outfit public schools and libraries with cutting-edge technologies.
Gates has been less receptive to another approach aimed at bridging the divide, however, with Microsoft not among those supporting the plan to build US$100 laptops, a plan now being spearheaded by Nicholas Negroponte, co-founder of the Media Lab at the Massachusetts Institute of Technology.
That approach — being fostered by a non-profit known as One Laptop per Child — uses a hand-crank-powered battery and open source software to create ultra low-cost machines. Intel and Microsoft have been among the companies that have called the approach into question, saying the economics behind it simply don't work and that demand is not for stripped-down machines that can only run limited programs but for full-powered, full-featured PCs.
Microsoft's approach now enjoys broad support, with the private financing arm of the World Bank lending its resources to the effort. Intel has also backed it, with the company saying it will make support for FlexGo "a key part of Intel's portfolio of enabling efforts in developing communities in 2006 and beyond."
The creative approach could help Microsoft gain more sales in countries where it has been hampered by piracy — the next wave of countries where it will launch FlexGo are among those where it sees the biggest losses from unauthorized software, notably Russia and China.
"Microsoft and other technology companies have long recognized the opportunities to reach poorer populations, but haven't been able to go that last mile," Gartner analyst Martin Reynolds told the E-Commerce Times. With help from PC makers such as Lenovo that are already doing well in those markets, Microsoft and its partners could benefit from rising sales.
Just as important, the approach may help create long-term demand for Microsoft's products by giving new PC users a Windows-based introduction into the world of computing, Reynolds noted. "People tend to stick with what they are familiar with over time," he added.