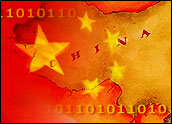 U.S.-based computer memory chip maker Micron Technology has announced plans to build its first chip manufacturing plant in China in mid-2005, according to an Associated Press report today citing a company executive in Shanghai as its source.
Micron plans to spend "likely more" than US$100 million (about 80 million euros) over the next three to five years, the report said.
Micron did not return calls seeking comment.
While Micron already sells, markets and designs chips in the Asian country, the plant would be the Boise, Idaho, company's first Chinese manufacturing facility at which it will reportedly assemble and test products.
Brian Matus, vice president of market research IC Insights, told the E-Commerce Times that many high-tech companies, including Intel, are setting up shop in China to simultaneously keep costs under control while moving their products to more active markets quicker.
First Step
"This could be a baby step toward future larger scale operations," Matus said. "It would appear to be beneficial for Micron and it doesn't really hurt. Its operation is not very labor intensive and there's no potential loss of technology. So this is a low risk gamble."
This news comes less than a month after the company reported a net loss of US$123 million in its fourth fiscal quarter, missing Wall Street's expectations of a $0.20 a share earning on sales of $1.23 billion.
At that time, Micron executives revealed plans to increase capital spending in 2005, despite a predicted dynamic random-access memory (DRAM) recession.
"We are entering the height of the DRAM boom, and the industry will be heading into a recession during 2005," Andrew Norwood, principal analyst for Gartner's semiconductor research group, said.
"While the DRAM vendors are gaining profits, they are increasing their capital expenditures on new production facilities," he continued. "These will come online in late 2005 and through 2006, triggering an oversupply-driven downturn."
Downturn Predicted
IC Insights forecasts a 5 percent to 10 percent downturn next year, mostly due to a predicted slower overall global economy, with the oversupply the fruit of less demand and lower prices.
Micron ranks fourth in the Chinese computer memory market, after Hynix, Samsung and Infinitron, according to a report from CCID, an IT consultingfirm.
As vendors prepare for a more difficult marketplace in 2005, Gartner analysts said there will be a real battle to be a top-tier vendor behind Samsung. Norwood said, "All of the DRAM vendors will need a survival strategy to remain competitive."