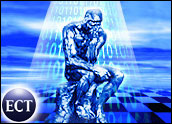 In the post-boom era of e-commerce, the gurus whose ideas and actions set the bar and tone for the industry may seem familiar. Although yesteryear's fast-growth mantra has been replaced by a different chant — profits, profits! — first-wave icons like Jeff Bezos of Amazon (Nasdaq: AMZN) and Meg Whitman of eBay (Nasdaq: EBAY) are still leading the way.
Now, however, they have been joined in the dot-com pantheon by a band of old economy stalwarts who recognized early on that the Web was going to change the way business was done — even if it did not do so as fast as some people expected.
"Today's e-commerce thought leaders are much more likely to be from established companies that recognized what the Web could do and grabbed on," Alan Montgomery, an associate professor at Carnegie Mellon University, told the E-Commerce Times. "The next big thing might be a pure play, but it's more likely that regular companies doing business online is where e-commerces future lies."
Still on Top
Bezos and Whitman still hold a special place in the hearts of those hoping to follow the trail they blazed to e-commerce success, Montgomery noted. Bezos is credited with building from scratch one of the most easily recognized online brands. Indeed, the brand-name is now venerable enough that several old-world companies have partnered with Amazon.
Meanwhile, Whitman is admired for overseeing a startling combination of consistent growth and profitability at eBay and for fostering the idea that there are few, if any, limits to how the eBay platform can be used for commerce.
Bricks, Clicks, Wizards
But heading into the 2002 holiday season, the leaders, once again, most likely will be multichannel merchants, and few do it better than Lands' End.
Topping the list of multichannel wizards is Lands' End senior vice president for e-commerce Bill Bass. When Sears plunked down US$1.9 billion to buy the apparel retailer, it did so largely on the strength of the online approach Bass had put in place earlier this year, which was based on exceeding customers' expectations for service.
"Lands' End has made it easy to shop on the site and therefore easy to buy," Giga Information Group analyst Steve Telleen told the E-Commerce Times. "That's a simple idea, but groundbreaking at the same time."
Making Money
Another crop of gurus also has emerged, although they are focused less on inventing new ways to use the Internet and more on finding ways to use existing technology to turn a profit.
This group includes Overture CEO Ted Meisel, who may have been the first to figure out a way for search engines to make real money, as well as the leaders of Overture's main competitor, Google, CEO Eric Schmidt and co-founders Larry Page and Sergey Brin.
"Google made the transformation without confusing the user about what it is," Forrester analyst Harley Manning told the E-Commerce Times. "Overture was first, and Google has managed to keep it simple. Both will be imitated."
Gurus in Waiting
Then there are the would-be gurus shepherding the next wave of e-commerce toward the mainstream. Some of these leaders are focused on Web services, while others are using the Internet to solve big-picture human problems, ranging from obesity to loneliness. Still others are maintaining a laser-like focus on e-commerce, determined to improve processes and technologies.
It is probably too soon to single out new gurus from these emerging areas of e-commerce. To be sure, visionaries in these areas are working hard to establish track records, but while observers watch and wait, the entrenched stars of the industry will continue to reign.