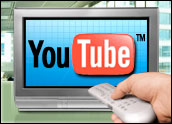 Four major media companies are reportedly in discussions about launching their own Web-based video sharing site to compete with Google's YouTube.
CBS, Viacom, NBC Universal and News Corp. are said to have held discussions about creating a rival to the wildly popular video sharing site, which Google purchased in October for US$1.65 billion.
While Google has been working hard to demonstrate to content owners that YouTube can become a valuable vehicle for distribution — as well as promising to protect their intellectual property rights by putting measures in place to ensure copyrights will be honored — the studios may reap more benefit by cutting out what is essentially a middle man.
The Wall Street Journal first reported that the talks had taken place in its Saturday edition. There are clear complications, however, including the fact that both CBS and NBC have signed licensing agreements to let YouTube distribute some of their content.
Still, at least in theory, having a stand-alone site would enable media companies to realize more ad revenue from the Web-based content, eliminating the need to share the income with Google and enabling them to use their existing advertising sales infrastructures in the new medium.
Space of Their Own
The talks reportedly began with News Corp. proposing to use its MySpace.com social networking site to host video for its own and other major networks. Rivals such as CBS and NBC balked at that idea, worrying they would be aiding a rival and turning over control of their content to another network.
One major player has been absent from the talks. Disney, owner of ABC and a host of cable networks, apparently believes it can build its own distribution channels online.
Google did not respond to a request for comment on the report.
The media companies may consider building a customized video player that would be able to play clips from the major networks. Presumably, such a tool would also have built-in copyright protection capabilities to ensure that content is not pirated or used without authorization.
Any deal is a ways off because of the complexity of getting the major networks to agree and then having to build or buy a technology platform to make it happen.
The bid to build an alternative is also a validation of the value of YouTube or a variation, not only as a new way to distribute video to viewers but also for promotion of traditional TV content.
CBS has said that its partnership with YouTube to display clips of the "Late Show with David Letterman" has helped boost ratings for that show, for instance.
Build, Buy or Partner
Can the YouTube model can be duplicated? It has caught fire with users in part because of the viral nature of the site and the tens of thousands of user-generated video that is mixed in with studio-produced movies, TV shows and news clips.
The result is a site that offers a dizzying variety of video content, something networks may be hard-pressed to duplicate, even if they were willing to throw the channel open to home-video producers.
Networks and studios are struggling with how to best capitalize on the Web as a distribution and promotional channel. While some have linked willingly with YouTube, others have partnered with BitTorrent and other third-party sites. Still others are indicating an interest in going it alone online.
"Despite all the movement, all the deals that have been announced this year, content owners are still in the top-dipping stage," Yankee Group analyst Mike Goodman told the E-Commerce Times.
The seismic shift in media consumption will be the one that results in users being able to get whatever video they want whenever they want, with the specific channels that will be used for pure on-demand delivery still up in the air, Goodman said.
"Networks now recognize that the on-demand model is going to take over," he added. "The question now is how best to get there without hurting their own businesses or giving away their valuable content."