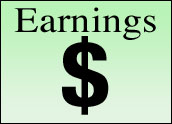 Shares of computer security software maker McAfee surged Friday after it posted higher revenue and, despite a sharp drop in profit compared with the year before, better-than-expected earnings.
McAfee's net income fell to US$12.2 million, or 7 cents per share, in the quarter that ended in December, down sharply from $32.9 million, or 20 cents, a year ago. With certain one-time items stripped out, profit was 46 cents per share, a penny ahead of Wall Street forecasts.
Revenue rose 17 percent to $365.5 million, the Santa Clara, Calif.-based company said.
Making History
The quarter marked the company's "best sales results in more than three years," CEO Dave DeWalt said.
"As we pursued our strategic imperatives, we generated 17 percent year-over-year revenue growth," he added. McAfee also said its deferred revenue balance — revenue it will recognize in the future for long-term software licenses — is above $1 billion for the first time in the company's history.
McAfee also announced it would launch a stock buyback program and spend up to $750 million on its own shares, a sign of the company's confidence it can profitably grow the business, he added.
That news and the solid results sent investors into the stock, with McAfee shares up nearly 8 percent to $34.18.
Consumer Concern
As with other tech companies, McAfee is being closely watched for any signs of an economic slowdown. DeWalt is worried that weaker consumer confidence will mean fewer PC sales, a key driver of the company's non-enterprise software sales, he said.
Still, the company issued a forecast that is at the high end of analyst expectations for the current quarter, calling for profit of 42 to 47 cents per share and revenue of $345 million to $360 million. Analysts have called for 45 cents in profit on $343 million in revenue.
In the fourth quarter, McAfee said its corporate sales remained strong, posting 24 percent year-over-year revenue growth thanks to demand for the Total Protection for Endpoint and IntruShield product lines.
Much of that came from large deals, with McAfee saying it closed 453 deals worth more than $100,000, 56 deals worth a half-million dollars or more and 14 worth $1 million.
A Turnaround Mission
Consumer sales grew more modestly, rising 7 percent in the quarter, though revenue would have grown by double digits if exchange rates had held steady. Domestic revenue was up 11 percent and international sales up 24 percent, and made up nearly half of the company's total sales.
McAfee has been on a turnaround mission since cleansing itself of executives tied to a stock option backdating scandal in 2006. At the time, the company was being named as a possible takeover target, but the recent performance has shown that it has remained competitive and that demand remains for standalone security software, Gartner analyst Neil MacDonald told the E-Commerce Times.
"Microsoft and other vendors may yet build systems that have security baked in, but for now, many buyers believe the need for separate software remains as strong as ever," MacDonald said. continues, with Microsoft seeking to build security into its operating system and vendors such as Cisco that provide networking gear seeking to offer security as a feature. "As long as security threats remain, particularly from the Internet, businesses and consumers will want added protection," he added.
Growing and Dipping
McAfee also disclosed that it had completed the acquisition of privately held ScanAlert, which makes the Hacker Safe Web site security certification system. McAfee expects growth in the verification and certification of Web site security.
The company also disclosed that it is partnering with EMC spinoff VMware to provide security to be built into that company's virtualization products, which could offer it a significant new presence in enterprises.
That type of partnership is one of McAfee's strengths and underscores that it makes products that partners are willing to endorse, said FBR Research analyst Daniel Ives.
Larger Issues
"There's no indication that McAfee and other security vendors are seeing the impacts of any larger economic issues yet," Ives told the E-Commerce Times.
While security is viewed as a necessity rather than a luxury for businesses and consumers alike, any slowdown in overall information technology spending could crimp security software vendors' results, Ives noted. Still, McAfee appears to be well-positioned to remain in growth made after any such dip is cleared, he added.
In addition to announcing the buyback, McAfee also added to its board, naming Carl Bass, the CEO of Autodesk, and Thomas Darcy, a former CFO at Science Applications International, as directors.