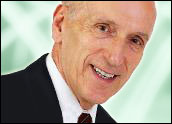 Today's CEO is beset by many challenges, not the least of which is dealing with his/her board of directors. This challenge has been rendered more difficult since the passage of Sarbanes-Oxley (SOX) in 2002. We are reminded how the collapse of Enron caused a backlash from Congress, thus resulting in the passage of SOX.
Fortunately or unfortunately, SOX has caused both directors and CEOs to be constantly looking over their shoulders, afraid that they might somehow be violating the somewhat Byzantine provisions of this law. Perhaps this is why one of the first questions asked by a prospective board member is "Does the company have Directors & Officers' liability insurance?"
Given this background, it's awfully comforting to read a book written by an active and successful director, Martin Coyne II. How To Manage Your Board While Your Board Manages You gives practical advice on how to maneuver the labyrinth that corporate life can present today. This advice is organized under four major categories.
Annual Operating Plan
Coyne devotes a chapter to this very important topic and guides the CEO through the process of meeting the board's expectations vis-a-vis creating an acceptable operating plan and getting it approved by the board. He even presents a timetable of when to present the plan — "By the middle of the fourth quarter of your fiscal year, your board will expect a preliminary review of your draft annual operating plan for the coming year."
He finishes the chapter by explaining to the CEO how the annual plan is used by the board in evaluating performance — "Your board will use the annual operating planning process and your performance in achieving the plan as a key measurement criterion for the evaluation of your performance as CEO, as well as the performance of members of your management team."
Business Strategy
Chapter 3 of the book talks about the importance of the second major element, namely business strategy. So many companies have foundered due to a lack of good strategic planning and failing to anticipate moves that the competition might make. This chapter speaks to those issues.
In addressing the challenges that a CEO faces in assessing strategic performance Coyne states, "Strategic planning is a key responsibility of every CEO and will be an important component of your annual performance appraisal. Long-term value creation is every CEO's mandate. The thoughtfulness and quality of your strategic plan — to meet customer needs and to provide the products and services they want — is the foundation for creating shareholder value."
Creating shareholder value is the raison d'etre of the CEO. For that matter, it's also the board's primary responsibility. A sound strategic plan is the sine qua non for the long-term viability of a company, Coyne makes this point abundantly clear.
CEO Succession Planning
In my opinion, far too many companies are remiss in not having a clear and concise succession plan that addresses the eventuality of a CEO's departure. Many of them are caught, helter-skelter, with the unexpected departure of a CEO. Their only alternative is to go to a major headhunting firm and scramble to find a suitable CEO without doing any long-term damage in the interim.
This issue is clearly discussed in chapter 4: "Succession planning for the CEO and other key senior management positions is one of the most important responsibilities for any CEO and his or her board of directors. Your board will expect you to take this responsibility seriously. They will likely devote the majority of time at one board meeting each year to review and discuss this topic."
Coyne finishes this chapter with some common-sense advice to the CEO: " One of your most important responsibilities is to ensure that you have a diverse and deep management team in place now and developing the talent pool to achieve future growth."
Risk Management
Some board members and CEOs err on the side of caution and take few risks. In the long run, this attitude usually results in the slow devolution of a company, leaving it far behind the competition. Coyne does not take this super-cautious stance. In fact, he talks about no risk, no reward when he says "Risk is an inherent part of every business. The old adage 'no risk, no reward' is truer today than ever. So if risk can't be eliminated, how can it be mitigated and adequately managed?"
His focus to the CEO is in the identification, anticipation, and mitigation of risks. Many of us think that risk can increase a company's costs, thus decreasing its net income. Coyne's approach is different. He says, "Effective risk management can reduce costs and improve business performance. Both of these positive results will create value for your shareholders … When risks are properly identified and effectively managed, you and your board members can devote far more energy on growth strategies and creating value for your shareholders."
The book then goes on to address key committees that are vital for the proper and profitable functioning of a company. He discusses the Audit Committee, the Compensation Committee and the Nominating and Governance Committee.
Part 2 of the book addresses the intricacies of developing a successful business plan, and Part 3 talks about improving a CEO's relationship with his/her board.
So, for the ambitious CEO who wants to create added value for his company and work well with board members, this book provides plenty of sound advice to guide the CEO.
Good luck!
---
Theodore F. di Stefano
is a founder and managing partner at
Capital Source Partners
, which provides a wide range of investment banking services to the small and medium-sized business. He is also a frequent speaker to business groups on financial and corporate governance matters. He can be contacted at
[email protected]
.