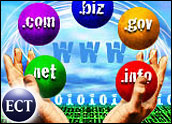 The World Intellectual Property Organization (WIPO) announced Monday it has ruled in favor of entertainer Madonna, ordering businessman Dan Parisi to hand over the reins of www.madonna.com to the Material Girl.
The three-member arbitration panel, part of a United Nations agency charged with copyright and intellectual property protection, determined that Parisi lacked legitimate rights to the Internet address and used the domain name in bad faith.
What's In A Name?
The complaint filed by Madonna argued that www.madonna.com is identical to the registered and common law trademark "Madonna," to which she owns the rights. Madonna disputed Parisi's legitimate interest and rights in the domain name and contended that Parisi used the address with the intent to attract Internet users to a pornographic Web site.
In order to win the arbitration, Madonna had to prove that
the domain name registered by Parisi was identical or confusingly similar to a trademark or service mark in which Madonna has rights;
Parisi had no legitimate interests in respect of the domain name; and
the domain name had been registered and used in bad faith.
Madonna Wins on All Counts
According to Sally Abel, a trademark lawyer for Fenwick & West in Palo Alto, California and a frequent arbitrator of domain disputes for WIPO, the bad faith provision was violated because the panel found that "[Parisi] obtained the domain name for purposes of intentionally misleading consumers into thinking the site is somehow related to Madonna."
Parisi also failed to provide the panel with a reasonable explanation for the selection of Madonna as a domain name. He did not dispute that Madonna.com is identical or confusingly similar to a trademark in which the Madonna has rights.
The panel found that nothing in the record supported a conclusion that Parisi adopted and used in good faith the term "Madonna" based on its ordinary dictionary meaning. Pop singer Sting recently lost a similar WIPO arbitration last month because the word "sting" was deemed to be a common English word and Sting had not trademarked his name.
"In both cases, the word in question is an ordinary word in the English language," Abel told the E-Commerce Times. "But in the Sting case the domain holder had had the domain for quite some time with a page up and material unrelated to the musician or to pornography."
Lasting Effects
"The biggest thing about the case is the fact that Madonna is Madonna," Abel said. "The decision underscores what has already been said: that celebrities can have protectable rights in their names and that, in appropriate circumstances, domain names that are being used in a way that essentially violates those rights can be transferred to the celebrity."
Since the WIPO arbitration system began last year, out of the nearly 1300 cases filed, 591 decisions have been rendered. Among those decisions, 118 complaints were denied, six were cancelled and 467 domain names were transferred.